April 6, 2019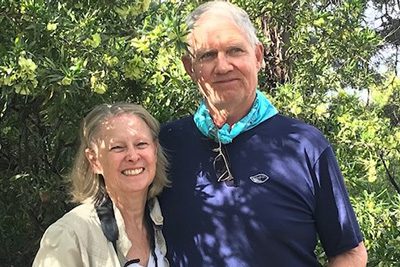 There are freethinkers, free spirits, risk takers, right makers, dreamers, and doers who are standing up to support Together, We Dream. Here is one story that explains why. Meet Jane Harper and John Velin, parents of Mike Velin '06.
What impact do you see the completion of Together, We Dream: The Campaign for MPA having on your family?
We hope our grandchildren will someday have the chance to study at MPA. We would like a first-rate school ready for them.
Why do you believe it is important to give to both Together, We Dream and to the annual MPA Fund as you would in other years?
It is important to reach deep once in awhile to support the large capital projects. It is equally important to continue annual giving to be able to sustain the capital investment.
Why do you choose to give to Together, We Dream even though your child has graduated?
We are giving to the endowment to establish a tuition scholarship. We believe it is important for families at all income levels to have access to the quality of education provided by MPA.
How do you see the four priorities (library, commons, cafeteria and kitchen, endowment, and outdoor track) of Together, We Dream impacting the student experience?
Although our focus is on the endowment, it is important for students to be proud of the school they attend. These improvements will add value to their educational experience.
What is your dream for the future of MPA and how do you see Together, We Dream working toward your dream?
Our dream is that the school is sustainable, that it maintains high standards throughout the next 20 years, and that it is accessible to all income levels.
Is there anything else you'd like to share about your MPA experience?
As parents of an alum, we know how life-changing the MPA experience can be for a young person. Our son blossomed as a whole person after transferring into MPA in ninth grade.
Honor where we've been. Power our way forward. Make a gift at moundsparkacademy.org/donate/alumni.