April 10, 2019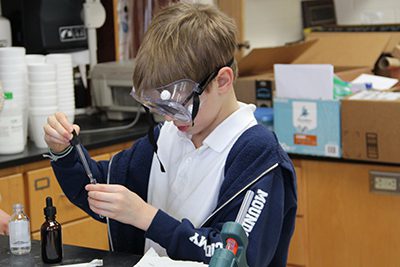 Learning should truly be a magical, creative, hands-on process. "The Science of Harry Potter" summer enrichment class does just that and is the perfect vehicle for what Mr. Purdy likes to call "Imaginerring"—the joy of combining science and imagination. In class, you will use science and your imagination to create a Golden Snitch catapult, use chemistry to brew magic potions, create Troll Bogey magnetic sand, and so much more. Get ready to bring science to life! This class is for grades two through four, and will be held June 17-21, 10:40 AM-12:10 PM.
When it comes to teaching and learning, no one puts it better than Miss Frizzle from the Magic School Bus series when she says, "Take Chances, Make Mistakes, Get Messy." In the "Let's Make a Mess" summer enrichment class, we will do just that. If we can make it goop, platter, foam, pop, or fizz we will. Besides having a lot of fun getting messy, we will learn the science behind what makes it pop, fizz, splatter, and foam. Students in grades kindergarten through four are welcome to enroll in this class, and it will be held June 17-21, 9-10:30 AM.
Visit moundsparkacademy.org/summer to sign up for these fun summer enrichment classes!