April 11, 2019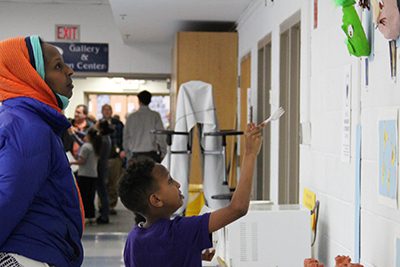 by Dr. Bill Hudson, Head of School
It is difficult to be thinking about spring while a snow storm is bearing down on us and we are all enjoying an unexpected snow day. However, spring is my favorite season for many reasons. One of which is the Lower School Art and Music Show. Slowly, over spring break, the gallery and halls of MPA come alive with beautiful works of art created by our Lower School students. Ms. Rossbach works throughout the break to carefully curate and present their art thoughtfully and enchantingly. If you have walked the halls this past week or so, I am sure you will agree with me that it is magnificent.
The theme of this year's show is inspired by the music of the Beatles, envisioned and interpreted by our very talented Lower School students. Art teacher Karen Rossbach and Music teacher Mari Espeland have yet again collaborated magnificently—as they have for more than 33 years—to integrate art and music, inspiring a playful and joyful performance that cannot be matched elsewhere.
My first recollection of the Beatles was a Chipmunks album I played over and over as a young child. "The Chipmunks Sing the Beatles" was originally released in 1964 as a rendition of Beatles hits sung by the Chipmunks. At that young age, I actually thought it was the other way around. I was surprised to learn that the songs on the album were first sung by the Beatles. Imagine my disappointment when I learned later that there wasn't actually a group of singing chipmunks…
You will in no doubt be charmed by the sights and sounds of MPA's little ones singing and dancing to the legendary songs of Ringo, Paul, John, and George. However, the scope, sequence, and spiraling of music theory that students have learned over the course of the school year may not be immediately noticed and appreciated. If you look hard, however, you will see how the building blocks of rhythm, pitch, and harmony are carefully and thoughtfully blended with improvisation, movement, and creative self-expression.
What may not be evident in the students' artwork is a depth and scaffolding of fundamental art concepts as students move through each grade level. Furthermore, important competencies such as collaboration, joyfulness, and community are interwoven throughout our art curriculum. I sat in on a second-grade art class this winter, working alongside students intent on creating paper mâché blackbirds while listening to the Beatles. I was amazed by the student's embrace of the music and the seriousness of their work. To see the blackbirds now displayed in the main hallway validates the beauty that results when music and art come together.
At MPA, we embrace, support, and nurture the inherent ability of all children to be makers, thinkers, and expressive human beings and place great emphasis on arts education. Having our students engaged in the visual and performing arts at every division isn't just about fostering an appreciation for the arts. It's about helping students develop the ability to practice perseverance, develop ingenuity, and understand that ideas can be expressed in more than just words. Through authentic experiences as musicians, artists, and performers, each student has the opportunity to maximize their artistic potential, build confidence, and create beauty.
Even if you do not have a student in Lower School, I hope you will consider attending the Art and Music Show next Tuesday, April 16. The art show begins at 5:30 PM and is followed by the music program at 7 PM. You may be aware that founding faculty member Ms. Rossbach is retiring at the end of this school year after serving MPA for 37 years. I can't think of a better way to honor her legacy and life's work than this wonderful celebration!