April 11, 2019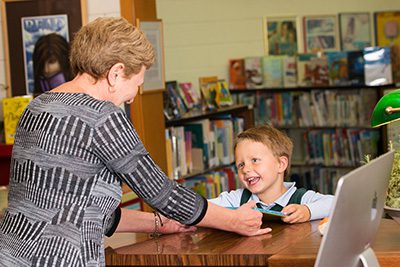 Editor's note: We sat down with Nancy Lage, librarian, to ask her a few questions about Together, We Dream: The Campaign for MPA and what impact she sees a new library having on our community.
How will the new library enhance your program and better meet your students' needs?
The new library will impact our program by providing students more flexible spaces for multiple age groups to learn and collaborate. These spaces can transform how we all work together as a learning community. There will be an expanded technology infrastructure for interactive instruction as well as designated spaces for evolving student artwork and exhibits. A modern and developmentally appropriate children's room is being designed and inspired by nature. Several of the reading and research spaces will have comfortable seating, natural lighting and individual study spaces as well as a conference room and access to the adjoining outdoor courtyard—all of which will enhance school-wide literacy, activities and events.
What part of the new space are you, as an educator, most excited for?
The library is the intellectual heart of MPA; the primary foundation for knowledge, stories and skills. Moving the new library to the center of the school makes the entire design very exciting to me. Not only will it offer easy access to students, faculty and families, but it will be infused with fresh spaces that provide students a place for personal reflection and self-awareness through literature and knowledge.
How will this library make dreams come true?
The inspiration for this new library began many years ago. To see it happening is truly a dream come true for me, and for so many community members. I am certain that this new library will enrich students' experiences and encourage life-long learning and the exchange of ideas. My sincere hope is that it will continue to meet the changing needs of the MPA community now and in the years to come. Everyone is welcome to join in the dream!
Honor where we've been. Power our way forward. Make a gift at moundsparkacademy.org/donate/together.