April 16, 2019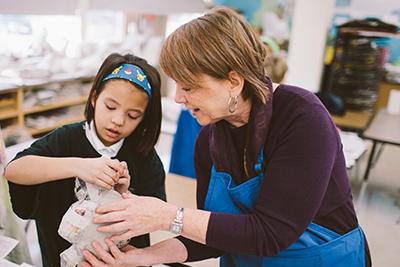 We are celebrating three long-time faculty and staff members as they retire at the end of this school year. Please join us in showing your appreciation for Karen Rossbach, Dave McGaha, and Laurie Foss, by attending the annual Retirement Celebration on Thursday, May 30 from 4-7 PM at Keller Golf Course. An invitation will follow. Mounds Park Academy extends its sincere gratitude for all they have done for our students and community.
"It sounds so cliché, but I will miss the people the most. I could have never imagined working with people who were so supportive and philosophically on the same page about education. And the children brought me so much joy each day," says Karen.
Karen was at the forefront of building robust and substantive fine arts and visual art departments. She came to MPA with a handful of risk-taking educators, in a borrowed building with hand-me-down furniture, and played a vital role in helping MPA mature into one of the top private schools in the Twin Cities. She was presented the Minnesota Art Educator of the Year Award, contributed to the Minnesota Visual Art Standards, and served as president of the Art Educators of Minnesota. She is also proud of having worked to create MPA's photography program in which numerous students exhibited in juried exhibitions and received top portfolio awards.
Collaborating with other teachers has been a highlight of her career. "Mari Espeland and I have created 33 years of non-repeating annual themes. This allowed us to be creative with how we deliver content and create cross-curricular connections. And Lisa Buck, I knew she was the one to help me build these programs the minute I met her," she says. "At MPA, teachers compete with themselves, not each other, to be the best we can be. We are truly collaborative."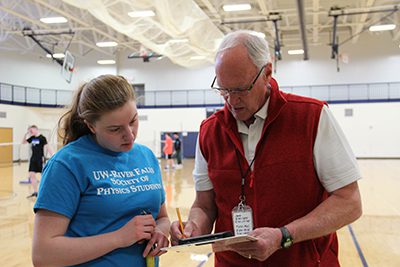 Dave McGaha echoes Karen's sentiments when he talks about what he will miss about MPA. "The community. Everything about the community—the adults and the kids. There's no doubt about it." Throughout Dave's career, he has displayed an incredible work ethic, built meaningful relationships with students, and truly knew his content area. Perhaps that's because he was meant to be a physical education teacher.
"I knew in seventh grade this is what I wanted to do. I walked through the gym doors and I knew it was for me. I had two teachers—one in seventh grade and one in ninth grade—who I had huge respect for," he shares. "This was my game plan from the beginning. I guess I was lucky in that regard because it turned out to be a really good thing."
Similar to Karen, Dave does not have any specific plans for retirement. "I plan to take time to have a cup of coffee and let the dust settle," he says.
Mounds Park Academy extends its sincere gratitude to these two incredible educators. Perhaps Karen says it best. "Teachers are never famous—but hopefully they show up here and there in the lives of their students." I'm positive that these two incredible teachers will "show up" for many more years to come.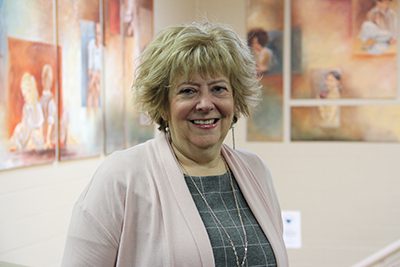 Having served every head of school, Laurie Foss has been central to the success and advancement of Mounds Park Academy through the years.
Laurie is known for her warm, sincere, and generous spirit. She knows nearly every member of this community and has an innate ability to connect with people of all ages. From her work with the board of trustees to students who stop in, Laurie is engaging, welcoming, and always willing to assist. Her role is varied, and she has always handled it with the utmost professionalism and commitment.
Laurie began her career in the legal profession, but quickly came to appreciate being in an educational environment. "This is something I really believe in. While my two daughters did not attend MPA, this role put me in their world. I was much more sensitive to things that were going on with them. What was going on in my world was very similar to what was going on in their world." In addition to her two daughters, who are now grown and have children of their own, Laurie and her husband are proud host parents to two of MPA's international students. Her entire family has welcomed them in as their own.
In retirement, Laurie looks forward to having more time to focus on her family, including her two daughters, two son-in-laws, and five grandchildren. She'll spend more time at their lake home and get back to hobbies that she and her husband share.
When asked what she will miss about coming to MPA each day, it is no surprise that her response centered around community. She shared, "It's always been more than a job. I don't know what it is about MPA. While my role can be challenging at times, it can also be a joy beyond measure and somewhere along the line became a huge part of me and who I am today. There are so many happy memories and people whose paths I've crossed. I can't even express how much this community has meant to me."