April 16, 2019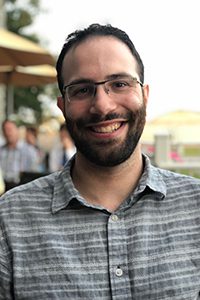 There are freethinkers, free spirits, risk takers, right makers, dreamers, and doers who are standing up to support Together, We Dream. Here is one story that explains why. Meet Isaac Marshall '11.
What impact do you see the completion of Together, We Dream: The Campaign for MPA having on your family?
Completing the Together, We Dream campaign will allow MPA to be around and thriving for years to come.
Why do you believe it is important to give to both Together, We Dream AND to the annual MPA Fund as you would in other years?
I believe that it is important to give to both Together, We Dream and the MPA Annual Fund because each of these gifts supports MPA in different ways. The sustainability of MPA comes from focusing on both short- and long-term goals and by giving to both funds I am supporting MPA today and helping it grow into a school of tomorrow.
Why do you choose to give to Together, We Dream even though you have graduated?
I choose to give to Together, We Dream even though I've graduated because I care deeply about the future of MPA and value the education and experience I had there. I want to enable others to not only experience MPA as I did but to experience an MPA that has grown and evolved with our changing world. As students, we deserve an educational experience that adapts to the time in which we live. Although my time as a student at MPA is over, I know that my MPA experience was only possible because of the generosity and commitment of those who gave to MPA before me.
How do you see the four priorities (library, commons, cafeteria and kitchen, endowment, and outdoor track) of Together, We Dream impacting the student experience?
I see the four priorities impacting the whole student. The re-imagined spaces will provide fresh perspectives and experiences for learning and socializing. These spaces are designed to engage students in ways the current spaces simply cannot. The outdoor track demonstrates our commitment to physical well-being and updating our facilities to continue hosting events and developing stellar athletes. Taking this opportunity to grow the endowment will galvanize the priorities of this campaign so this new student experience is available to students for years to come.
What is your dream for the future of MPA and how do you see Together, We Dream working toward your dream?
My dream for the future of MPA is to continue innovating in education, demonstrating excellence through action, and teaching students to think creatively and compassionately and work together to make a better world.
Honor where we've been. Power our way forward. Make a gift at moundsparkacademy.org/donate/together.