April 17, 2019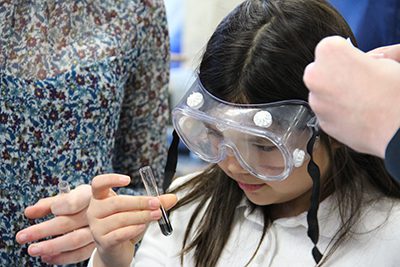 by Dr. Bill Hudson, Head of School
I'm one of the few people who actually enjoys painting a room or even a house. Several years ago, we had our 100-year-old house re-stuccoed, which required scraping and painting the wood trim around the windows. In order to save a few dollars, we decided to do it ourselves. More than 30 windows later and a lot of work, the job was done, and the house looked great. Whether its painting, cooking, or refinishing old furniture, I like seeing the rapid transformation of a finished job. In contrast, the work of educating young people is never finished and there are not often opportunities to see an immediate outcome.
During a recent family vacation during spring break, I took a time out from sightseeing to visit with alumni living and working in New York City. I spent two days crisscrossing Manhattan to connect with more than one dozen alumni spanning the classes between 1989 and 2014. I met a physician, several people in business and finance, a medical student at NYU, a cantor and professor, and an alum doing something innovative in technology and algorithms that try as I might, I just couldn't understand. As I listened to their stories, experiences, and career paths, it became even more clear to me what the long-term outcome of an MPA education is.
One alumnus from the class of 1989 is the founding partner of a very successful national advertising, promotions, and event planning company that works with international companies in employee engagement and training. He was insistent that I visit him in his office before going out for lunch. He said, "I hope you can stop by our office to see the business we've built. I honestly credit much of the business and my entrepreneurial spirit to MPA, so it would be fun to share it with you." As I toured the office, I picked up on those founding ideas of MPA that are still foundational to our school today: creativity, collaboration, community, and innovation.
I met an alum from the class of 1997, Dr. Tom Hooven, who is an assistant professor of pediatrics in the Division of Neonatology-Perinatology at Columbia University Medical Center. In addition, he leads a research team at New York University that focuses on using advanced genomic analyses to identify new drug or vaccine targets in an effort to eradicate dangerous neonatal GBS infections. I was surprised to learn that Tom was also the author of an exceedingly well written and moving essay that was published by the New York Times.
One might ask the connection between all three roles: doctor, researcher, and writer. The answer, for Tom, was MPA. "MPA taught me about how to treat new ideas with respect. Whether it was a scientific hypothesis, a draft of a poem, or a certain take on a theatrical monologue, I learned at MPA that new ideas are important, but also that they don't necessarily arrive fully formed. They can be nurtured and honed, which is usually the harder and more rewarding phase of the creative process."
Whenever I travel for both work and for pleasure, I prioritize setting time aside to connect with alumni. Even though most of them do not know me, they often jump at the chance to connect, hear about the success of the school, and enthusiastically share their MPA story with me. I find these meetings incredibly meaningful. They inspire me as we continually re-imagine and reinterpret our founding ideals in light of the emerging needs of our students. They affirm our mission of a whole-child education for whole life and the importance of a progressive, liberal arts focus in the midst of a push for more STEM. Finally, I find time with alumni to motivate me to continue to throw myself into my work so that MPA students truly do go into the world to make a difference.
As I've said many times before, and I continually find people agree with, "Dream Big. Do Right." is not a marketing campaign. It authentically expresses for all of us what has been unique about an MPA education since our founding and continues to guide our school today. I hear that from alumni all the time—that they discovered and nurtured their dreams at MPA and that MPA inspired them to follow their passions and make a difference in their field and communities. I may not be able to see an immediate impact on today's students but taking my cue from the countless alumni I have met, I find great comfort knowing our world will be just fine in their hands.
Mounds Park Academy, a PreK-12 private school in Saint Paul, is currently accepting applications for the 2019-20 school year. For more information about admission and to schedule your tour, visit moundsparkacademy.org/admission. We look forward to getting to know your family!