April 25, 2019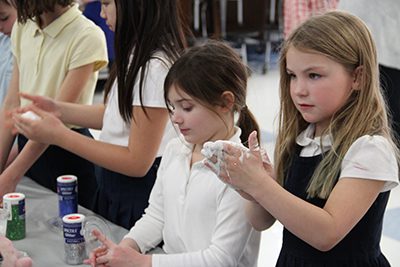 This summer, Kidcreate Studio is offering some fun enrichment classes at MPA from June 17-21! In Beyond Pinch Pots, students will really have the chance to get messy and learn about a basic clay technique. They will have the option to create silly rabbits, playful penguins, and much more. "Clay can sometimes be challenging," comments Elena from Kidcreate Studio, "and it's amazing to see the process click and all of a sudden each student has created a ton of silly masterpieces simply from coil pots!" Beyond Pinch Pots is for kids in grades K-4, and will be from 9 AM-12 PM.
What rules supreme: art projects that glitter or art projects that glow-in-the-dark? There's no need to choose when you sign up for Glitter & Glow! "Glitter & Glow is obviously a fan favorite for us, as is any class with glitter!" says Elena. "This camp has a really fun spin in that all of the projects also glow in the dark," she adds. Glitter & Glow is for students in grades K-4, and will be held 1-4 PM throughout the week of June 17th.
"Our tie dye workshop is one of our most popular classes at Kidcreate Studio," says Elena, "We will get messy with the kids and parents simply get to see the end result! We really take 'leave the mess with us' seriously with this one!" Tie-Dye Party will be a one day class being held on June 21, from 9 AM-12 PM for kids in grades K-4.
Lastly, Insane Slime speaks for itself! It's three hours of slime packed fun. Students get to make a few different kinds of slime, and it's going to be a messy one, so please dress accordingly. Like Tie-Dye Party, this class is only held on June 21 and is from 1-4 PM, for kids in grades K-4.
To sign up for these classes and more, click here!