May 3, 2019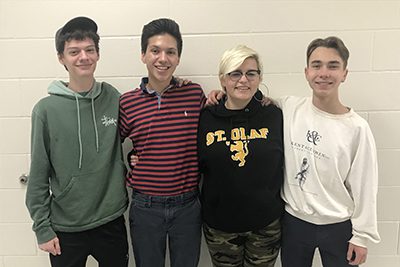 Congratulations to Caleb Rhodes, Ryan Ghose, Solveig Svennevig-Brosi, and Jordan Akers who auditioned and were selected to be members of the Minnesota Music Educator's Association All-State Choirs!
Caleb and Jordan will sing in the Tenor-Bass Choir under the direction of Michael Culloton from Concordia University-Moorhead. Ryan is a member of the Mixed Choir conducted by Joan Miller (University of North Dakota) while Solveig will sing in the Soprano-Alto Choir with Therees Hibbard (St. Olaf College) conducting.
The All-State Choirs convene on the campus of St. Olaf College in early August. This six day camp culminates with a performance in Boe Chapel. In mid-February, the choirs reunite to perform at Orchestra Hall. Caleb, Ryan, Solveig, and Jordan are all members of the MPA Concert Choir and Madrigal Singers.