May 9, 2019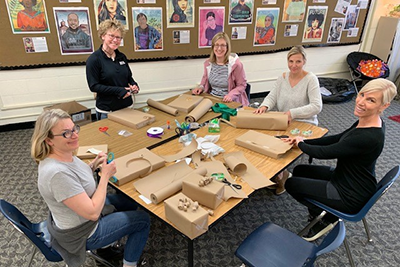 Our volunteers are hard at work putting the finishing touches on the 2019 Spring Auction—Once Upon a Time! It's not too late to get your tickets to this fun, entertaining, and important event in support of MPA. We're so thankful for all of the hours that so many of our MPA community members have put in to make this year's event our best yet.
We have silent auction items with starting bids as low as $35! You may preview them here. In addition, you'll find mystery boxes, a wine toss where you're sure to be a winner, a game of heads or tails with a cash prize, incredible live auction packages, a live band, and great food—what more could you want for a fun night out?! Perhaps most importantly, we want to build community and raise funds in support of our teachers and students in the classroom.
Contact us with questions and grab your tickets before it's too late!
A special thank you to Lisa Vale for the progress photo above! Pictured: Reese Manger, Sarah McFarland, Renee Roach, Jen MacDonald, Billi Jo Aamodt. Volunteers not pictured: Jen Holloway, Amanda Platson, Sally Richie, Lisa Vale, Christi Zweig.