May 16, 2019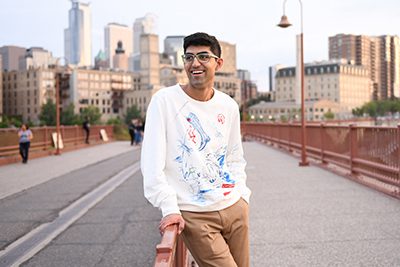 As the 2018–19 school year comes to an end, we're sharing the college choice stories of several members of the Class of 2019!
In what grade did you come to MPA? 
I came to MPA in Kindergarten. My sister was in third grade when I enrolled, so my family was familiar with the school. My parents wanted to provide me an education that they never had the opportunity to have, a place where both intellect and character and valued and developed equally.
How did you come to choose the college that you did?
After touring numerous colleges, Washington University in St. Louis remained on my mind for many months. I enjoyed the resources of the institution, the strong emphasis on science and humanities. However, what ended up causing me to apply Early Decision to WashU were the people. I visited the college twice and the students were incredibly kind and reminded me of MPA students. I remember talking to one current student, and she said that everyone here works together because we acknowledge that collaboration fosters stronger solutions.
What are you most excited about as you embark on your college experience?
I am most exited for new opportunities. I have been at MPA for 13 years, which is awesome, but I am excited to explore a new city and new classes. Recently I got a course catalog with dozens of offered classes which made me really excited to be able to try new things.
What did you appreciate most about the college counseling process at MPA?
MPA's college counseling program is really great. We start as early as freshman year to introduce us to the variety of colleges and the whole admission process. MPA also gets ninth graders involved right away. I remember volunteering at the MISP college fair in ninth grade! In addition, junior and senior year really allowed me to develop my resume, college essay, and my list. Ms. Pederson is with you every step of the way and is always willing to simply sit down with you and talk things out.
What about your MPA experience has best prepared you for college?
While MPA is exceptional academically, the greatest thing MPA taught me was how to enjoy learning. I feel as I head into college I am going to be compounded with new activities and increased courses. However, MPA has instilled within me a sense of joy of learning. From exciting club meetings, to fun class discussions, to hands on labs, learning is enjoyable at MPA. This joy will help me find excitement and richness is new classes.
What is your advice for MPA's Class of 2031 (kindergartners)?
Do everything you can at MPA. Join every club, try new sports, and simply enjoy your time here. MPA is so unique that you have the potential to dive into so many things and still succeed academically. Trying new activities has allowed me to discover what I am truly passionate about, and what I hope to continue in college.
Insights from Ms. Pederson, Director of College Counseling:
While Aneesh had college in his sights early on, he wisely remained rooted in his present moment. Active in speech and debate, orchestra and choir ensembles, student council, social consciousness and diversity clubs, two sports and Peer Leaders, Aneesh got everything he could out of his MPA experience. In fact, rising to multiple leadership positions, his contributions helped shape our student community in positive ways. As Aneesh considered his college options, he found a number of schools that satisfied his academic criteria, but the culture of Washington University in St. Louis set it apart. Wash U also saw a great match in Aneesh, selecting him as a Rodriguez Scholar, no doubt due in part to his role in conversations about diversity (among other topics) at MPA, and his two summers of service in Central America through the Amigos de Las Americas program. Congratulations, Aneesh!
The 55 members of the Class of 2019 were offered admission to 107 different colleges and universities in 30 states, Washington D.C. and Canada. They will attend 44 different schools in 18 states and Washington, D.C. Learn more about MPA's College Counseling program here!