May 23, 2019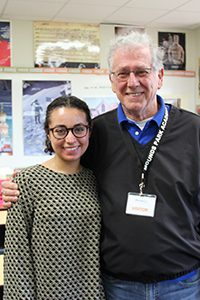 Sophomore Salmah Elmasry and Upper School history teacher Katie Murr are one of 15 student-teacher pairs from across the country to be accepted this year to the Albert H. Small Normandy Institute. The Institute is an intensive, all expenses paid program that will give Salmah and Ms. Murr the opportunity to study D-Day and the Operation Overlord Campaign of 1944. They are participating in an online course this spring, and then will travel to Washington D.C. and France to complete archival research and learn from experts. The program will culminate with Salmah writing a lengthy biography of and delivering a eulogy for a Minnesota soldier buried at the Normandy American Cemetery at Colleville-Sur-Mer in France.
This soldier is Lawrence—or "Larry"—Riley, and he has a connection to the MPA community. Upper School English teacher David Loo introduced Salmah and Ms. Murr to his wife's uncle, Bob Riley, who is Larry's son. Bob's father was killed as a paratrooper in WWII, and he grew up knowing very little about who his father was, how he died, the regiment he served in, or anything related to his military service. After months of rigorous research, Salmah and Ms. Murr were able to piece together Larry's story, and they met with Bob on campus this week to share with him what they discovered.
Salmah and Ms. Murr learned that Larry was from Minneapolis, lived in a house with his parents and eight siblings, and attended DeLaSalle High School. After finding photos and obtaining records from DeLaSalle, it was clear that Larry was a remarkably talented athlete. "He played football throughout his high school career, and he earned letters in his junior and senior years," shared Salmah during the conversation.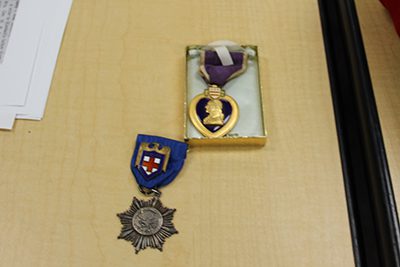 "He had this high school education, but it was a struggle, and right at the moment he seemed to be getting back on his feet he secured a job at the Twin Cities Ordinance Plant … The war clearly took over in terms of where he went to get a job and what he was going to do," says Ms. Murr. Due to his age at the time of the war and having three children, Larry was likely not going to be drafted, so he volunteered instead. He enlisted as a paratrooper. Paratroopers were paid an extra $50 a month, and there were a lot of men who tried to join the airborne for that reason.
"Given his financial struggles at the time from the effects of the Depression," speculates Salmah, "it's possible that that was something that prompted him to join. We also found that the airborne was a very elite group. The training was meant to filter out everybody who wasn't the most equipped. He made it through, and I think his athleticism and his talent helped him in that." Larry and his unit of other paratroopers went on to participate in extremely rigorous training at Fort Benning, Georgia.
Based on military records, Salmah and Ms. Murr deduced that Larry was killed in the Battle of Carentan on June 11, 1944. It was one of the most significant battles in the days after D-Day, helping to guarantee the Allies could control key roadways in Normandy. Bob Riley was only an infant when his father was killed. "When we read about these things, it's terrifying" says Ms. Murr, "but your dad and all his comrades, they just kept going in the face of everything."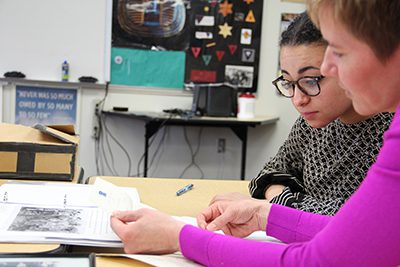 As part of their work through the Normandy Institute, Salmah and Ms. Murr will fly to France this summer, where Salmah will deliver Lawrence Riley's eulogy at his grave. "I've stood in that cemetery. It's a remarkable place," shared Ms. Murr. "And there's the deepest sense of appreciation. Every French person that I encountered when I was there said thank you."
The work that Salmah and Ms. Murr are doing is vitally important, as Elizabeth Loo says. "If you focus on one individual you get a picture of the whole thing. All these individuals with stories like this—it's a gift to help people understand."
Most importantly, Bob now understands his father's story. On the eve of the 75th anniversary of the D-Day landings, Salmah and Ms. Murr feel it's the least they could do to honor the family of an American hero.