May 23, 2019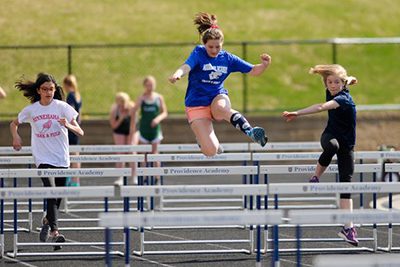 Congratulations to the Middle School Boys and Girls Track And Field Teams! These Panthers won the Conference Championship last week!
The Middle School Conference Championship Meet was held at Providence Academy and totaled in 29 team and individual events. The Panthers placed first in 11 of them.
In the boys 100 meter hurdles event, Owen L. came in first place and Kai Z. in fifth. Amelia J. placed second for the girls and Kensi B. fourth.
MPA took third in both the boys and girls 800 meter relay.
Hope B. placed first in the girls 1600 meter run. For the boys, all top three places were MPA runners–Jasper P., Owen L., and Evan W.
In the 400 meter relay, the MPA girls team took second place. The boys took both second and third in their race.
Evan W. placed third in the boys 800 meter run individually. The MPA girls team took fourth in the 800 meter relay. The boys team took first and third.
Audrey J. placed first and Lola D. fourth for the girls shot put event. Audrey also placed first in the discus throw. Bruno G. came in third place in the boys discus throw event.
In the girls long jump, Amelia J. came in first place. In the boys event, Jasper P. took second and Owen L. third.
In the girls high jump event, Amelia J. took first place. Marin G. took fourth. Bryan W. took third for the boys.
The Panthers also took all top three places in the girls triple jump–Amelia J., Emilia M., and Kensi B.
Overall, both teams both ranked first, winning the Championship meet. Way to go, Panthers! We are so proud of our athletes! A big thank you to MPA parent Gretchen Gasterland-Gustafsson for the fantastic photos that capture this memorable meet.