May 29, 2019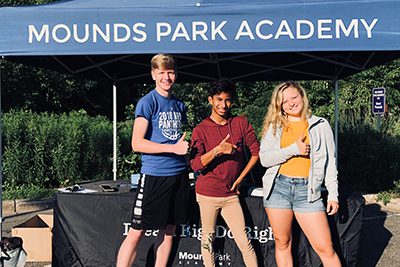 The Offices of Admission and Marketing/Communication are looking forward to MPA's presence at many fabulous summer events, starting this weekend! These events provide us with an opportunity to raise awareness of MPA in the community and share what a wonderful school it is.
We are looking for volunteers (families, alumni, parents of alumni, faculty, staff, and students) to join us in this effort! This is a great way to connect with people you might not get to otherwise and share your love for MPA. Your children are more than welcome to accompany you and this is a great way for Upper School students to earn service hours.
Please consider signing up for a shift or two and stay only as long as you are able. Nate Bander, Upper School admission coordinator, will contact you as the date approaches with additional information. Please contact him at 651-748-5518 or via email at nbander@moundsparkacademy.org with any questions.
Click here to sign-up! Thank you in advance for your time and for supporting MPA in this important way.