May 30, 2019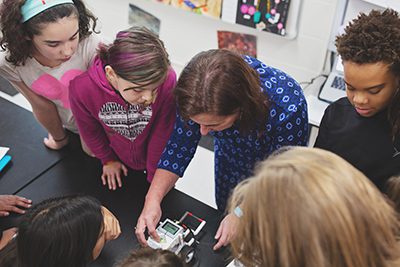 by Dr. Bill Hudson, Head of School 
I consider hiring to be one of the most important aspects of my role as head of school. As a rigorous college prep school, I need to ensure that we have excellent teachers. But because of our mission, we also need to ensure that we have excellent human beings who are going to go beyond the classroom as role models, advocates, and confidants, and even sometimes, act in "loco parentis." I am continually reminded from my own experience as a teacher that in the long run, students won't always remember what we taught them, but who we are, how we treated them, and how we made them feel. Early in the hiring process, I make a point to remind each committee that while it is important to fill the position, we are hiring the person first.
MPA has a very rigorous and inclusive hiring process. When an opening presents itself, we first take the opportunity to review the position in light of our mission and the evolving needs of the school. Open positions are then posted both locally and nationally and despite a national teacher shortage, we have had great success in attracting a highly qualified and diverse pool of candidates. Each hiring team is led by a member of the administrative team and is comprised of faculty and staff who work collaboratively to screen resumes and conduct a first round of interviews, culminating with a day on campus and a final interview. As a part of their time on campus, teaching candidates actually teach a class and then meet informally with students. We truly value the student perspective and voice in the hiring process. The final decision rests with the head of school, taking into account the recommendation of the hiring committee and the feedback of the students.
I've enjoyed meeting with all of our finalists for the 2019-20 school year. A common theme that emerges when I ask them about their experience at MPA thus far is the warm welcome they receive from the community. They quickly pick up on the sense of family we enjoy and almost always remark about the engagement of the students. Many are surprised, yet pleased, that we include students in the hiring process and mention that it speaks volumes about our community. I often hear from the candidates that what attracted them to MPA is our mission and that our focus on whole-child for whole-life pedagogy aligns with their own educational philosophy. We are fortunate to have had highly qualified candidates and I am extremely pleased with the newest members of our community. Please join me in getting to know them and looking forward to the new perspectives they will bring to our school …
Ms. Tracey Bellore Joyce will be our new PreK-12 academic technology integration. Tracey comes to us from Visitation School where she has worked in the area of technology for 12 years. Prior to that, she was a classroom teacher for eight years. She holds a Bachelor of Science in business administration from the University of Wisconsin, Eau Claire, a Master of Arts in elementary education from the University of St. Thomas, and a K-12 learning technology graduate certificate from the University of St. Thomas as well. Tracey has extensive experience developing curriculum and promoting the intentional use of technology to support student achievement in the PreK-12 classroom. She is an exceptional parent educator and advocate of digital citizenship and security. Tracey deeply cherishes whole child education and loves to celebrate the joy of learning.
Mr. Ian Cunningham will join the Middle School faculty as the new social studies teacher for grades five and six. Ian is a recent graduate of the University of Minnesota with a Master of Education in social studies and we are fortunate to welcome him back after he completed his student teaching with us just last fall. His Bachelor of Arts in history with a minor in youth studies is also from the University of Minnesota. Ian brings a wonderfully positive energy to the Middle School and is already a beloved member of our community, especially by students. He is a talented young teacher with a real passion for the social studies, an ability to connect students with content, and a commitment to equity, justice, and goodness.
Ms. Lauren Drake will be joining the Upper School English department. A veteran English teacher, Lauren has taught in both Northern California and in Colorado and recently relocated back to Minnesota. After graduating from Sidwell Friends School in Washington, D.C., Lauren matriculated to Carlton College where she received a Bachelor of Arts in English (magna cum laude) and then received a Master of Arts in British and American literature from Mills College. Lauren made a wonderful impression on the English search committee. Her calm, confident, and open approach was evident during her meetings with the committee and students and while teaching a wonderful lesson on Tim O'Brien's "The Things They Carried." The students who met with Lauren spoke positively about how she values student independence and how relatable she is.
Ms. Gia Gifford will be our new K-4 art teacher. Gia comes to us from Clara Barton Open School, which is a K-8 magnet school in Minneapolis Public Schools. She holds two degrees from the University of Minnesota, Twin Cities, including a Bachelor of Arts in studio art and art history and a Master of Education in visual arts K-12. Gia has a deep passion for teaching art to elementary and middle school learners. Her interests in life have always centered around the arts and she loves engaging students as they explore and expand upon their own artistic endeavors. Along with a variety of teaching experiences in diverse environments, Gia is a silversmith who is active in the Minneapolis arts community. Gia is a compassionate, patient, and caring teacher.
Ms. Tara Keegan is a Licensed Professional Clinical Counselor (LPCC) who has experience working with children and families in various settings. She holds a Bachelor of Arts in psychology from the University of Wisconsin, Eau Claire and a Master of Arts in counseling and psychological services from St. Mary's University. She completed her graduate internship at Mounds Park Academy in 2009 and is very excited to return to this community. She worked at Fraser for 12 years prior to more recent experience as a school counselor at a small private school in Richfield. At Fraser, she provided individual and group therapy and completed diagnostic assessment and psychological evaluation for children ages one through 18. She recently completed a post graduate certification in infant and early childhood mental health at the University of Minnesota.
Ms. Hannah Lawson has been selected as the new director of orchestras and music teacher. Hannah will join our community and the Twin Cities after eight years of public and private school teaching in the United States and abroad. She holds a Bachelor of Music Education from Bowling Green State University and a Master of Music Education from Boston University. She is a gifted musician and has demonstrated a remarkable ability to connect with students and faculty. Most recently, Hannah has been teaching orchestra and general music in Saudi Arabia. We are excited about Hannah's passion for music, her deep and thorough knowledge of composition and music theory, and her excitement to lead MPA's orchestras to continued excellence.
Mr. John Milam comes to MPA as our new Middle School science and design teacher for grades seven and eight. John has been a teacher and leader in STEM education for more than 20 years spanning public and private school teaching, university administration, and program development. John holds a Bachelor of Arts in middle school education, science and mathematics, from the University of North Carolina at Wilmington, a Master of Education in curriculum and instruction, science education, from Texas A&M University, and has done advanced doctoral coursework in curriculum and instruction, STEM education, at Texas A&M. Most recently, he served as the Middle School STEM teacher at Hmong College Prep Academy. John is excited to challenge MPA students to bring their science knowledge to real-world problems through design thinking in order to make a difference in our community, both locally and globally.
Please note: MPA's Middle and Upper School physical education, Upper School social studies, and executive assistant to the head of school positions are currently in the hiring process and will be announced together this summer.