June 11, 2019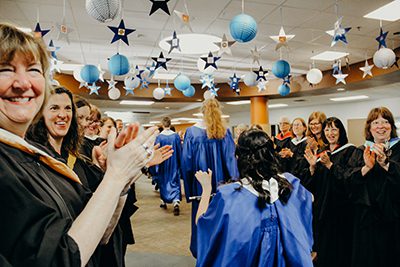 On June 8, 2019, students, families, and faculty gathered in Mounds Park Academy's Nicholson Center to graduate the Class of 2019. The evening began with the Upper School Band's rendition of "Pomp & Circumstance" as the junior color guard and MPA faculty and staff presented the graduates. Throughout the ceremony, the Concert Choir and Madrigal Singers shared songs and three members of the Class of 2019 spoke. Gabby Law '19, Julia Portis '19, and Valedictorian Ajay Manicka '19 shared words of pride, encouragement, and inspiration for their fellow classmates.
When head of school Dr. Bill Hudson spoke, he called out the prevalence of cynicism in our society today. He referred to Operation Varsity Blues, the college admission scandal that broke this spring, as an example of the way our education system and society may seem to be heading. However, Hudson explained that while "Modern cynicism tends toward negativity, is judgmental, anti-idealistic, sardonic, and misanthropic," the MPA education that the Class of 2019 has received has readied them "to act from a place of rational faith in the human spirit." Before receiving their diplomas, Hudson addressed the Class of 2019, announcing to them, "You are our antidote to cynicism."
As Hudson expressed, we are so proud of the impact the Class of 2019 has made on our community and are excited to see how they shake the world in the years to come. Congratulations, graduates!  Click here to view special moments from the night.