June 19, 2019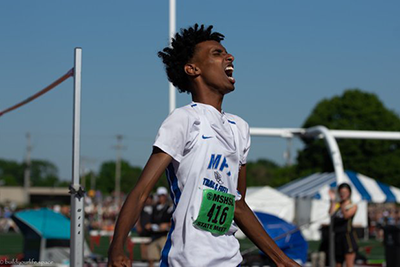 With 13 athletes plus relay alternates qualifying for the state meet, it was a busy weekend for panthers track and field. On Thursday, MPA's state qualifiers, alternates and coaches took a bus to Hamline University for the season's final practice on the track at Hamline. After practice, the team enjoyed a stop at Jamba Juice on the way home!
On Friday, the boys 4x200m of seniors Tae'Vion Wilkins, Ian Olson and Flynn Opatz and junior Nathan Harvanko led off the state meet competition in the prelims of the 4x200m. Though they did not make finals, placing 14th with a time of 1:34.46, seniors Tae'Vion Wilkins, Ian Olson and Flynn Opatz got to conclude their track and field careers on the track at the state meet. Also on Friday, junior Henry Snider ran in the finals of the 3200m. In brutal heat, Henry ran his second fastest time ever to place seventh and earn all-state honors with a time of 9:53.34.
On Saturday, our 4x800m teams started off the competition. The girls team of senior Gabby Law, tenth graders Izzy Quam and Katie Dahiya and 8th grader Margo N. placed 17th with a time of 10:32.98. The boys 4x800m team of ninth graders Isak Nightingale and Cullen Moore, junior Henry Snider and senior Matthew Bourne ran their season best 8:20.17 to finish ninth and earn medals and all-state honors! In the girls 800m final, senior Sofia Walker, who had qualified for the finals with a great race on Friday, ran another patient, smart race and kicked hard down the home stretch to finish fifth in a new school record time of 2:18.40. She earned a medal and all-state honors as well.
In the high jump, senior Yahya Madar capped off an incredible career with a day for the ages.  Entering the competition with a clearance at 6'0, Yahya  proceeded to clear 6'2, then he passed on 6'3, cleared 6'4, cleared 6'5 on his second attempt, cleared 6'6, cleared 6'7 on his second attempt, and cleared 6'8 on his second attempt. When the only remaining competitor left failed to clear to 6'8, Yahya won MPA's first state championship in a field event!  He didn't stop there. Yahya cleared 6'9 on his third attempt and then cleared 6'10 on his first attempt to tie the Class A state record held by Ken Larson of Fulda since 1981. His legs finally tired as he sought to clear 6'10 ½, and after walking off the mat for the final time, Yahya earned a resounding ovation from the crowd of hundreds assembled on the west end of stadium watching him jump.
MPA girls team finished tied for 49th place of 78 teams with 5 points and MPA boys finished tied for 19th of 82 teams with 16 points.
Photos by MileSplit MN.