July 23, 2019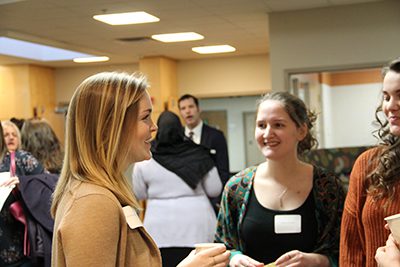 Last year, the MPA Alumni Association launched an innovative student enrichment opportunity, pairing Upper School seniors with alumni mentors. The program is designed to enhance personal and professional development experiences for our senior class students, while also providing alumni with an opportunity to reconnect to MPA and share their own experiences and knowledge with the next generation of graduates.
The program connected alumni like Meghan Martineau '02 with Rayaan Ahmed '19. Upon the program's conclusion, Martineau shared, "She blew my socks off. I was so impressed to know that she volunteered with newly elected U.S. Congresswoman Ilhan Omar. As she heads off to George Washington University in the fall, I know she's poised to change the world. Serving as a mentor to Rayaan was a lovely experience."
The MPA Alumni Association is seeking volunteers for the 2019-2020 mentorship program. While the time commitment is very manageable as a volunteer, the impact on students is immeasurable. To learn more about the program, or to volunteer, please contact Ashley Goetzke at agoetzke@moundsparkacademy.org.