August 5, 2019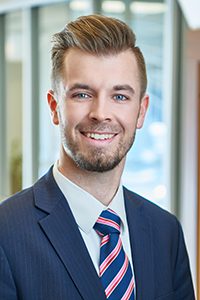 Meet 2019-20 Alumni Association Board member Michael Velin '06!
Michael attended MPA ninth through 12th grade. He is currently a financial consultant for families and works with them to transition not only their wealth and businesses to the next generation, but also their missions and values. He and his wife Ashley Cooper, Middle and Upper School counselor at MPA, live in St. Paul and are expecting their first child this month!
Ever since graduating from MPA in 2006, Michael says he has gained a deep connection and sense of gratitude for a community that has driven his desire to constantly learn and explore new adventures.
"MPA has always been a second home for me and to some degree I didn't want to lose touch of that feeling," he said.
He is inspired to continue the spirit of giving back and helping the community. He wants to continue to be active in the broader Twin Cities community with activism and philanthropy.
Stay tuned for more extended profiles of your 2019-20 Mounds Park Academy Alumni Association Board!