August 8, 2019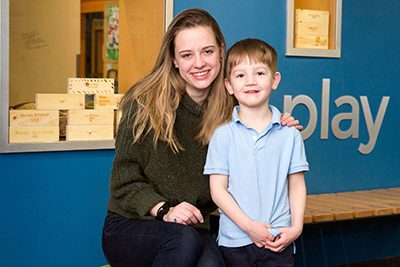 by Jennifer Rogers, director of development and community engagement
I hope your family has been enjoying the summer months! Two of the highlights of my summer include some much-needed family time with my two children before they are officially third and eighth graders and seeing the incredible progress that has been made on our new spaces being funded through the Together, We Dream campaign. It has been a daily reminder of the impact of our collective generosity and your commitment to the future of MPA.
I am so thrilled to share with you that after reaching our first fundraising milestone on May 1 to fully fund the new commons/cafeteria and kitchen and our beautiful new library, construction is on schedule! We've had a busy summer of picking out finishes, planning for the ways the new spaces will be used, and sharing our school with a large crew of dedicated men and women who are working hard to make sure our children's smiling faces will be met with beautiful new spaces on the first day of school. Our new library could be ready well before the holiday break and will be a space that will be enjoyed and treasured by our entire community.
As we celebrate this progress, I'm also keenly aware of the importance that we finish strong in fully funding the remaining two priorities for MPA through Together, We Dream. A large portion of our $5 million goal has been raised so far—$4.4 million—and we couldn't have made it this far without the hundreds of MPA champions who have stepped up and pitched in. I hope you'll consider stretching even further or joining us for the first time on this exciting effort to ensure we are able to fully fund our outdoor track renovation to enhance Panther Pride and to grow our school's endowment as an investment in the school's future. Every gift of every size gets us one step closer to the metaphorical and literal finish line!
Click here to donate and learn more about Together, We Dream: The Campaign For MPA.