August 9, 2019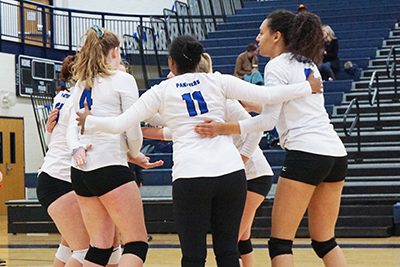 Building Character and Academic Success
Back to school also means back to sports, with many students reuniting with their fall teams, moving up to the next level of play, or trying out a new activity. Mounds Park Academy has been at the forefront of cultivating student athletes, with an emphasis on good sportsmanship and leadership that extends from the classroom to the courts, tracks, fields and stadiums where our Panthers compete.
Healthy mind, healthy body
MPA offers one of the broadest prep school athletic programs in the Twin Cities, including more than 20 Upper School teams and a range of competitive Middle School sports that begin in fifth grade. Our student athletes transform their gifts and talents into accomplishments that bolster their educational experience, with research showing that sports help create better students, and better citizens. For example, the University of Missouri's Adolescent Medicine program highlights that many athletes do better academically and encourages all children to participate in sports, reinforcing that "physical exercise is good for the mind, body, and spirit. Team sports help teach adolescents accountability, dedication, leadership and other skills … [and how] to effectively communicate to solve problems." MPA's athletics embraces this theme, welcoming students to take part in sports at all levels of experience—developing commitment, character, perseverance, initiative, and teamwork.
With 35 state championships in our school's 36-year history, MPA's tradition of athletic success is hard won and well celebrated. But those top rankings aren't the whole story, and for good reason. "MPA's no-cut philosophy means that we welcome all students and place them appropriately," explains Dan Haase, MPA athletic director. "Every student who wants to participate is encouraged to take part and then matched to a team that reflects their current skill level. Unlike other schools, we don't restrict the number of students who can join a team. For example, many schools might limit a basketball team to 12 players. If we have 16 students who want to play basketball, we include them all and work with them to progressively build their skills, whether they're starting from a novice level or come in with an advanced level of performance."
Fostering all levels of competition is also a part of MPA's whole child approach to learning. "We ensure that each level of play is developmentally appropriate, and that students are gaining the life skills that sports can uniquely provide," says Haase. "We engage students early and provide flexibility so they can pursue multiple extracurricular activities. We want them to be well rounded, to pursue the arts as well as athletics." Team sports also facilitate strong relationships and support good mental and behavioral health. University of Missouri physicians remind young athletes that "exercising is a natural way to loosen up and let go of stress … [to] make new friends who can be there for you as a support system when you feel under pressure."
Long-term benefits of a sports mindset
The life lessons of school sports carry into adulthood, and adult achievements. Kevin Kniffin, who teaches leadership and management in sports at Cornell University's Charles H. Dyson School of Applied Economics and Management, contributed to research that found "people who played high school sports tend to get better jobs, with better pay, and that those benefits last a lifetime. Hiring managers expect former student-athletes (compared with people who participated in other popular extracurriculars) to have more self-confidence, self-respect and leadership; actual measures of behavior in a sample of people who had graduated from high school more than five decades earlier showed those expectations proved accurate." Kniffin also determined that former student-athletes were more likely to be philanthropists, volunteering time and donating money more frequently than people who weren't part of teams.
A commitment to others while pursuing individual excellence has been a constant for MPA alumni. Kate Roach, Class of 2011, earned a spot with the U.S. women's quadruple sculls boat team and is competing at the 2019 World Rowing championships in Linz, Austria. Evan Ferlic, Class of 2015, is an NCAA All-Region honoree and has been named captain of the University of Minnesota men's cross country team. Parker Law and Yahya Madar, recent grads with the Class of 2019, were both state champions this year in their respective events. Taking the number one spot in high jump, Madar was MPA's first state champion in a field event, and Law won the Class A Singles State Tennis Tournament as after entering as the number one seed.
Much like these student athletes, MPA's sports program continues to grow—for example, MPA will offer an Upper School Girls Swimming and Diving Team starting this fall. "Ultimately, our athletics program is student-centered," says Haase. "We are continuously assessing the opportunities, gauging our students' interests and encouraging students to get involved and stay involved throughout their time at MPA."
There's still time to sign up for fall sports, or explore admission to Mounds Park Academy!
Learn more about it: Resources on Student Sports
Teaching Children Good Sportsmanship, with guidance and tips from the clinicians at Stanford Children's Health.
Encouraging Good Sport Conduct in Athletes, providing insight for coaches and parents from the Association for Applied Sport Psychology.
Strong Athletes, Smart Students: The Impact of Teens' Sports Participation on Academics, featuring research and analysis from the Women's Sports Foundation.