August 20, 2019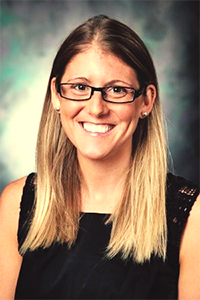 Meet 2019-20 Alumni Association Board member Brenna Bray '02!
Brenna was an MPA student from grades 5-12, graduating in 2002 to attend St. Olaf for undergrad. Around 2011, Brenna lived back home in Minnesota after attending the Publishing Institute at Denver University, and was presented the opportunity to coach the MPA cross country running and ski teams. After an amazing coaching experience at MPA for two years, she went on to pursue her Ph.D. in Biomedical Sciences and Neuroscience at the University of South Dakota's Sanford School of Medicine. However, she stays in touch with many of the Panthers she coached and cheers them on from near and far. 
Now once again back in Minnesota, Brenna is looking forward to reconnecting with the MPA community, and wanted to further rekindle that connection. "The Alumni Association Board provided a very fun way for me to do that," she said.
Brenna also adds that her role on the MPA Alumni Board has provided her with many opportunities to support MPA and get involved with the school and community she loves. As part of the Board, she hopes to continue supporting, fostering, and sharing the MPA community and spirit. 
Stay tuned for more extended profiles of your 2019-20 Mounds Park Academy Alumni Association Board!