August 29, 2019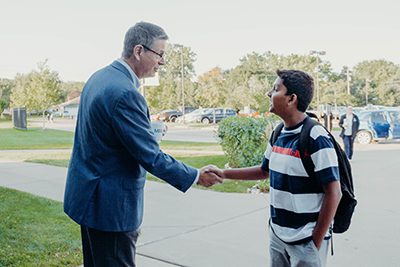 by Dr. Bill Hudson, Head of School
It was 1 AM Wednesday morning and I found myself wide awake. Fully aware that my alarm clock would ring in just a few hours, I just could not fall sleep. Even though this is my 29th year as an educator, I had the same excitement and the same tinge of nervousness that I had as a young student teacher. Standing before our community on Back to School Night, I knew that all those gathered shared a similar excitement, anxiety, and optimism, albeit in varying amounts. It is always quite humbling. And awe-inspiring.
Over the summer, I sought an overarching theme to express how I was feeling and thinking as a new school year approached. If you've built or remodeled a home or business, you know it is easy to get caught up with the details and the endless decisions that need to be made. There is noise, inconveniences, surprises, perhaps some frustration, as well a great deal of anticipation. Influenced by the construction of our new spaces, I kept coming back to a unifying idea of "building." As thrilled as I was with the amazing renovation unfolding, my thoughts were not limited by thinking merely about building a new commons, cafeteria, kitchen, and library.
The steel, wood, drywall, and brick make a building, but it is our common values and our shared purpose that will have a more lasting impact. I reminded myself that building is more than a noun—it is a verb. Together, we are building a better future. By cultivating critical thinking, creative inquiry, and social responsibility, we inspire and empower our children to improve an ever-changing and sometimes, challenging world. We do that through a rigorous, yet joyful, education delivered by an exceptional faculty dedicated to fostering caring relationships with their students.
After all these years, I still begin each year with unbounding optimism, confident that what lies ahead are endless possibilities. New beginnings still hold their magic for me and this year is no different. We have much to celebrate: wonderful new students and families, incredible new teachers and staff, and beautiful new facilities. We continue to be united in our shared belief that education is fundamentally an act of hope and that by investing in our children, we are indeed building a better future.