September 12, 2019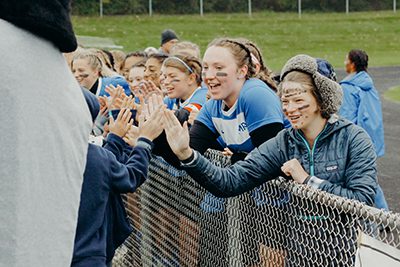 Come dream, play, and share with us at Homecoming 2019! Students will be celebrating on campus the week of September 23. Families, please join us for the annual Homecoming Pep Rally at 2:20 PM on Friday, September 27 in the Lansing Sports Center.
Saturday, September 28 features a day full of Homecoming activities on and off campus for every member of the community! Check out the full week's schedule of events in the Homecoming brochure mailed to your home or follow this link.
Sign up to volunteer at MPA's Homecoming 2019! We need your support to make this exciting event succeed. This fun-filled celebration has so many activities going on including fun runs, inflatables, lawn games, athletic competitions, alumni events, and much more. This incredible weekend for every member of our community would not be possible without the generosity of volunteers who give of their time on Saturday, September 28. If you have an hour or two to spare, volunteering is a great way to get involved with the event and MPA! Click here to sign up.
Thank you in advance for your time! If you have any questions, please contact Ilse Larsen, Development/Admission Coordinator, at 651-748-5539 or ilarsen@moundsparkacademy.org.
Exciting highlights this year:
Saturday's festivities begin with our annual Fun Runs at 8:30am, hosted by the MPA Cross Country Team. Join the MPA Panther for a 200M run/walk, or test out your endurance on the 2 mile run/walk designed by alum Nate Bander '09 and Director of Admission Craig Dodson.
Feel your heart swell with pride as you listen to third and fourth graders, led by Mari Espeland, sing the National Anthem at 9am in the Lansing Sports Center and/or at 11 AM in the MPA Soccer Stadium.
Enjoy grilled hamburgers and hotdogs along with a variety of other foods at concession stands inside the Lansing Sports Center, at the MPA Soccer Stadium, and in the North Parking Lot.
Become an MPA Corn Hole champion! Come check out the custom boards that our very own first grade teacher Kari O'Keefe, along with her husband Michael O'Keefe, designed and made for us.
Interact with fellow community members on the inflatables, including a bounce house for our youngest attendees and mini golf and axe throwing for all ages!
Will it be a cool fall day? If so, warm your hands by the firepit in the North Parking Lot.