September 12, 2019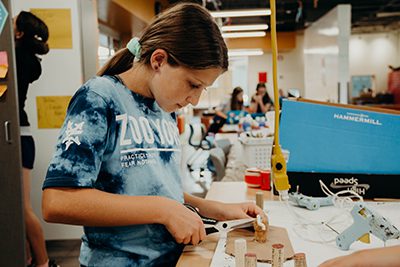 As their first project of the school year, MPA sixth grade English students were asked to turn themes from their summer reading into visual and written representations of "The Power of We" and "Harboring Each Other." Though this project contained three different components–written, visual, and oral–Ms. Meras and her students paved a way for them to come together as a whole.
After a deep discussion of the summer reading, students selected specific themes that powerfully resonated with them individually. They picked out phrases and key words to find a quote that represented both their selections and the overall themes of "The Power of We" and "Harboring Each Other." Students then shared their quotes with each other and Ms. Meras in their online discussion group in order to collaborate together and express themselves through their quotes of choice.
Students wrote responses to explain the significance of the quotes they chose, beautifully illustrating the meanings of their chosen themes. For the oral presentation, they would share reflections from the heart with their peers, as well as reveal the final part of the project: the visual piece.
What tools and creativity could be used to visualize the words that so powerfully resonated with them? Students tackled the challenge in the Makerspace, where they were met with limitless possibilities to create hanging mobiles as visual representations of their chosen quote.
From the beginning of their research to bringing their ideas to life hands-on, these students were encouraged to find even deeper meanings between the lines of the reading they were already inspired by. And, by working with one another, sharing why they were inspired, and collaborating to push the boundaries of where their ideas would go, they too found themselves representing the power of "we." see the students at work in the Makerspace here >