September 18, 2019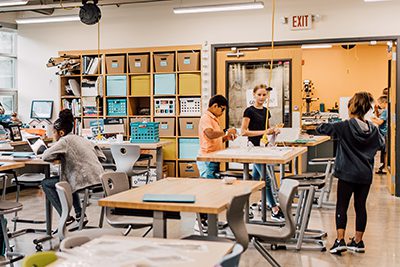 There are so many opportunities to get creative in the MPA Makerspace this year! We hope to see you bringing your ideas to life at the gatherings and events below.
Fiber Friends will meet every Friday from 11 AM-12:30 PM. This group of knitters, crocheters, seamstresses, and textile gurus is open to all faculty, staff, parents, alum, grandparents, and students. Beginners are always welcome! Upper and Middle School students may come in during their lunch and recess time.
Makerspace Mondays are open for Middle and Upper School students. They may use the Makerspace on Mondays for projects from 3-5 PM. There will be a clipboard to sign-in. If Middle School students are not picked up by 5 PM, they will go to Panther Club.
University of St. Thomas STEM Lunch Discussions occur once a month. Engineering students from UST will be on campus to share their inspiring stories and chat with students about careers in STEM related fields. Faculty and staff are invited to join in the discussion as well. The students will be on campus during the lunch hour on the following dates: October 10, November 7, December 5, February 13, March 5, April 2, and May 7.
Lower School STEAM club will begin in January and meet after school on Thursdays. We will have a winter and spring session. Registration will come out at the end of November.
MPA Maker Fest 2020 will take place on February 22 from 1-4 PM! This free, community event is the perfect place and time to showcase a project or hobby you are passionate about. All are welcome to host a table or attend. Last year we had students of all ages, parents, alumni, faculty and staff, and grandparents participate.
If you have items that you would like to donate or upcycle to the Makerspace, please drop them by anytime! We appreciate all objects to tinker with. There will be a bin outside the Makerspace for donated supplies. Please put your name on the donation or fill out a donation slip (located on the bin) and give it to the Development Office. Please do not donate any items that have been in contact with tree nuts, peanuts, or dairy.