September 19, 2019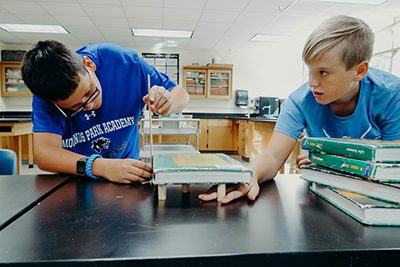 by Dr. Bill Hudson, Head of School
This summer, I attended a meeting of independent school heads at Stanford University and spent a few days in the San Francisco Bay Area. My custom has been to visit with alumni when I travel and I had the opportunity to connect with David Siegel '04. David is a techie, philosopher, and creative thinker. Blending his love of technology with a sensitivity to human flourishing, he is driven to understand how technology affects people. He recently launched his own start-up, Glide, which enables users to create an app that turns Google spreadsheets into beautiful, easy-to-use apps, without code.
During his years at MPA, David gravitated mostly toward Spanish, film, writing, and critical thinking. When I asked him what class or experience at MPA he attributes to his success, without hesitation he said, "photography class." Through photography he learned perspective, empathy, problem-solving, and iteration, all necessary for innovation. When asked for his advice to MPA students he said, "Develop your own theories about problems that interest you, seek out people working on those problems, and explain your ideas to them. View professional challenges as opportunities for creative thinking and devise your own solutions to these problems, rather than succumbing to pressure to behave uniformly."
I recently read David Epstein's book, "Range: Why Generalists Triumph in a Specialized World." I was struck by how Epstein's findings helped me connect what I hear from alumni like David, the culture and curriculum of MPA, and my sense of what our students need to thrive in an uncertain, rapidly changing, and increasingly complex global society. Epstein discovered that in most fields—especially those that are complex and unpredictable—generalists, not specialists, are primed to excel. In the today's mainstream educational system, however, the predominate thinking is to double-down only on STEM related disciplines. "The challenge we all face is how to maintain the benefits of breadth, diverse experience, interdisciplinary thinking, and delayed concentration in a world that increasingly incentivizes, even demands, hyper specialization."
Two executives from Microsoft, President Brad Smith and EVP of AI and Research Harry Shum, wrote in a recent book, "The Future Computed," that as computers behave more like humans, the social sciences and humanities will become more important. Languages, arts, history, economics, ethics, philosophy, psychology, and human development courses can teach critical, philosophical, and ethics-based skills that will be instrumental in the development and management of AI solutions. According to Epstein, breadth of training predicts breadth of transfer. Learning something in a variety of contexts enables the individual to create abstract models and creatively apply it to other areas.
Eighth-grade science teacher John Milam is introducing the Future City Competition to MPA. Future City is a project-based learning program where students imagine, research, design, and build cities of the future. John is working closely with English teacher Anne Devout Atchison and social studies teacher Marina Dale to empower students to bring together knowledge gained from across the curriculum and apply it to novel situations. This is just one example of the many opportunities and experiences MPA teachers create for our students.
I am convinced that what our rapidly changing world demands is both knowledge and conceptual reasoning skills that can connect new ideas and work across contexts. A strong liberal arts education that integrates the humanities and the sciences is in our DNA. My conversations with alumni have only deepened my appreciation for the unique education that MPA provides.