September 25, 2019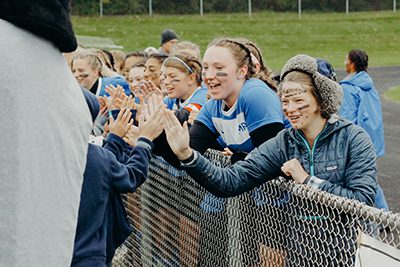 Homecoming 2019 is here! Did you see the Homecoming chalk art at the north and south entrances on Monday? Thank you to the Upper School Student Council for kicking off the week of festivities!
We have been dreaming, playing, and sharing all week. We hope you can come celebrate with us at the All-School Pep Rally on Friday at 2:20 PM in the Lansing Center.
Please also join us for a day of fun on Saturday! It will be a perfect fall day for catching up with friends, watching a game or match, grabbing a bite to eat, and warming your hands by the fire.
Festivities start at the Fun Run for all ages at 8:30 AM at the track. We have a 200M run/walk followed by a 2-mile course through campus. Please arrive at the track a few minutes early in order to sign up for your preferred race.
Breakfast items will be available at the Lansing Sports Center starting at 8 AM.
The MyBurger Food Truck will be serving hamburgers, vegetarian options, and the yummiest fries between 11 AM and 2 PM. Thank you to alum Mandy Abdo-Sheahan '92 for bringing the truck to campus this year!
Our third and fourth graders will once again sing the National Anthem at the Volleyball tournament at 8:50 AM and at the Girls Varsity Soccer game at 11 AM.
Test your skills at the inflatable mini golf and axe throwing. They'll be located by the bouncy house, just past the tennis courts.
Take your picture at the photo booth and share on social media. Maybe the Panther will join you for a photo, too!
Dream. Play. Share. Homecoming 2019. Friday and Saturday, September 27 & 28.