September 26, 2019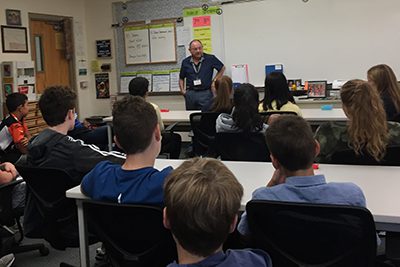 Seventh and eighth grade students read "Refugee" by Alan Gratz this summer. The book follows the journeys of three different children, fleeing their home countries in order to save their lives. But one character in particular, Isabel, is a Cuban refugee in the 1980s, who told a captivating story that would follow the students from their summer reading and into Ms. Atchison's classroom this year.
To enhance their class-wide discussion of "Refugee," Ms. Atchison invited a special visitor to speak to students. Her next door neighbor, Carlos Espinosa, came to MPA to tell his story to them. Though he fled Cuba nearly 20 years earlier than Isabel in the 1960s, they were both escaping Castro's rule. He arrived in the United States when he was just 13 years old–relevantly, the same age most of the students listening are now–as one of the children in Operation Pedro Pan. The students researched Operation Pedro Pan, learning all about the program Carlos grew up in after escaping Cuba's communist government that limited the rights and freedoms of the Cuban people. Called "a leap of faith for the sake of freedom," Operation Pedro Pan was reportedly the largest recorded exodus of unaccompanied minors in the Western Hemisphere.
Carlos first arrived in Florida alone, later to be joined by his mother and sister. But with his family arriving in the United States, he was no longer considered a "refugee," and was therefore sent to a live and work in a boys' home in Louisiana. There, he and the other Cuban refugees at the home had to find creative ways to stand up for themselves in order to stop being mistreating by the other residents.
After a childhood of escaping, moving, adapting, and learning, Carlos was able to attend medical school. He studied hard and exercised to find success and happiness as an adult in the United States. The students were so inspired by Carlos's story, and they each had the opportunity in class to research other children that were a part of Operation Pedro Pan. They were able to select profiles of children the program and learn about where they came from, where they went, and who they were. They were fascinated by all of these children's voices and stories, including Isabel's and Carlos's, and are so grateful they were able to hear this captivating slice of history firsthand.