September 26, 2019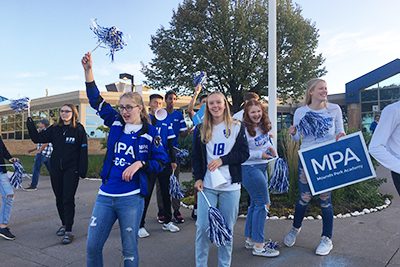 by Dr. Bill Hudson, Head of School
I am a sap when it comes to commercials around the holidays. I may be showing my age but some of you probably remember the Folgers Coffee commercial when the son surprises his mother by coming home from college unexpectedly, making a fresh pot of Folgers that awakens his mother. Tears, every time. There is something about coming home—feelings of love, safety, and acceptance—that stirs our emotions.
Our identities emerge in the midst of community, molded and shaped by our experiences. Our family, religious beliefs, neighborhoods, and schools are all important in introducing and reinforcing a shared set of values that nurture our identities. Schools in particular have a lasting impact not only on our academic development, but our social and emotional development in our most formative years.
The recent death of beloved founding teacher Richard Meacock has made this even more evident to me. At our core, teachers choose education as a career not because of fame or fortune but in hopes of making a difference in the lives of our students. In my career, I have encountered few teachers that have had the depth and breadth of influence of Richard. As one colleague wrote, "Richard was at his best in front of a classroom quoting the great poets from memory or sitting at his desk late in the afternoon, patiently helping a kid with a paper or a personal problem. He lived to teach, and he taught to live." Mr. Meacock, "taught me to be my true self" said a former student, "to love and laugh at life and the importance of bravery in a confrontational world."
For 38 years, MPA has been known for exceptional teachers like Mr. Meacock who forge close, personal relationships with students, helping them discover their true self, their identity. Together, we have created and nurtured a school community grounded in multi-layered relationships and strong connections with one another.
This week is a celebration of coming home to MPA, culminating Saturday in our all-community festival of activities. Whether you are a current student, alumni, parent, or friend, I invite you to come home to MPA and look forward to welcoming you here. Come home to MPA. I promise I won't cry.