January 23, 2019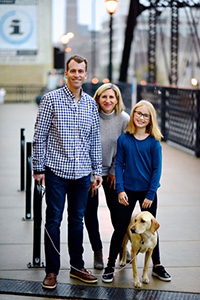 There are freethinkers, free spirits, risk takers, right makers, dreamers, and doers who are standing up to support Together, We Dream. Here is one story that explains why. Meet Leah Anderson, MPA parent.
What impact do you see the completion of Together, We Dream: The Campaign for MPA having on your family?
As the campaign completes, it will create an even more exciting, engaging, cutting-edge, and collaborative set of spaces where our children can continue to dream big and do right, innovate for good in the world, and challenge each other to be their best selves.
Why do you choose to give to Together, We Dream and the MPA Fund?
As with any critical strategic investment, MPA will only continue to be the incredible institution that it is today with ongoing investment in its future. Giving helps ensure that MPA will be here tomorrow—even better, and stronger, than it is today.
How do you see the four priorities (library, commons, cafeteria, and kitchen, endowment, and outdoor track) of Together, We Dream impacting the student experience?
The updated library will reflect the way that we work, interact, problem solve, research, study, and learn in the new world and prepare students for similar experiences as they pursue their college study and careers. The cafeteria and kitchen—what can I say? It will just be AWESOME. And the endowment is critical to ensure this school can continue to run a strong foundation for the future. And last, but not least, the track helps emphasize our commitment to the value and balance that a focus on athletics provides in an academically rigorous environment.
What is your dream for the future of MPA and how do you see Together, We Dream working toward your dream?
My dream is for MPA to be recognized as the leader it is in its pursuit of excellence, continuous improvement, academic rigor, and student experience/outcomes.
Is there anything else you'd like to share about your MPA experience?
We love it!!!
Honor where we've been. Power our way forward. Make a gift at moundsparkacademy.org/donate/together.