January 23, 2019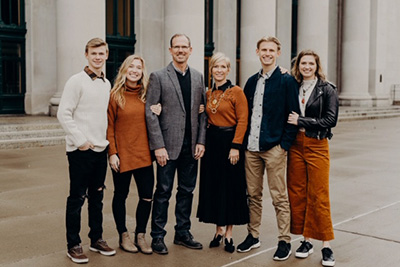 There are freethinkers, free spirits, risk takers, right makers, dreamers, and doers who are standing up to support Together, We Dream. Here is one story that explains why. Meet Elizabeth and Dan Esch, MPA parents and parents of alumni.
What impact do you see the completion of Together, We Dream: The Campaign for MPA having on your family?
Although 75 percent of our children have graduated and will not be able to enjoy the physical and aesthetic benefits of the renovation, Evan will be able to enjoy an enhanced and updated environment for his senior year at MPA! Beyond our family, I am excited to see the benefits that the entire MPA community will experience. 
Why did you choose to give to Together, We Dream?
Our family donated to Together, We Dream: The Campaign for MPA because we want to give back to a community and school that has given so much to our children in terms of amazing academics, an open-minded attitude and a "can do" spirit. In addition, the fine arts programs are second to none—specifically photography, drawing, ceramics, choir, and band. Lastly, we are grateful to our foreign language department and its teachers who have encouraged international travel and interest in cultures outside of the United States!
How do you see the four priorities (library, commons, cafeteria, and kitchen, endowment, and outdoor track) of Together, We Dream impacting the student experience?
Having an updated library with an improved area for study, lecture, and research will enhance the academic experience for MPA students. The new kitchen and cafeteria will provide an even better dining experience with state-of-the-art equipment for improved cooking methods and healthy, nutritious meals for our students. The new eating area will allow for socializing and rejuvenating in a lovely, updated space. The outdoor track will show MPA's dedication to sports as well as academics. Our alumna daughter participated in track and our alumnus son participated in soccer. The track is in desperate need of renovation.
What is your dream for the future of MPA and how do you see Together, We Dream working toward your dream?
I would like the number of students per grade at MPA to increase a bit. Improving and renovating MPA will make it more competitive with other private schools in the area. In addition, it will enhance the day-to-day school life of MPA's students and staff.
Is there anything else you'd like to share about your MPA experience?
We love MPA and are grateful to the teachers and faculty that make it a great place to be a student!
Honor where we've been. Power our way forward. Make a gift at moundsparkacademy.org/together/donate.