October 2, 2019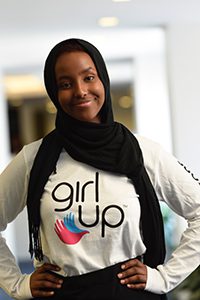 This past summer, MPA senior Misk Khalif was selected to serve as a 2019-2020 Girl Up Teen Advisor. Girl Up is a national advisory board made of young advocates working to promote gender equity for girls globally. As a campaign of the United Nations Foundation, Girl Up works to provide the tools and platform for girls globally to lead on a number of issues that affect them from education to health.
Misk had the honor of attending the 74th United Nations General Assembly (UNGA) high level week, where world leaders met in New York City to discuss the world's most pressing issues, from climate change to access to healthcare. UNGA brings together a variety of stakeholders from government officials, civil society, and business leaders.
"The most complex global issues requires all facets of society to collaborate and help us realize the sustainable development goals by the year 2030," Misk said. She had the opportunity to participate in a variety of key discussions, ranging from increasing universal access to education for millions of children globally who remain out of school, to providing better access to healthcare for women and girls who continue to lose their lives from preventable illnesses.
There were leaders of top NGOs like Women Deliver and Oxfam, as well as world leaders like the first female President in Africa, Ellen Johnson Sirleaf, and the Former Prime Minister of the U.K. and U.N. Special Envoy for Global Education Gordon Brown.
We are so proud of Misk and her passion to change the world! "Mounds Park Academy molds its students to truly be global citizens," she said, "And my time at the United Nations General Assembly high-level week reaffirmed the importance in leveraging your education and your platform to secure a more prosperous future for all people."