October 12, 2019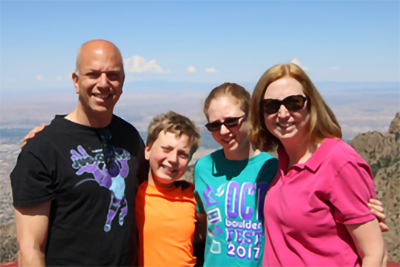 What do you love about MPA?
We love the small class sizes and the individual attention our children get from their teachers. Because of the small class sizes, the teachers really get to know our kids' strengths and weaknesses and focus on improvement. We also love the fact that our kids are encouraged to participate in arts and athletics and not solely focus on academics. We believe this is important for a well rounded education.
How is your child encouraged to dream big and do right at MPA?
At MPA, our children have been encouraged to try new activities they might not have tried if they were at a bigger school. The block schedule in Upper School has also allowed our daughter to take many more electives. This diversity in activities and classes allows them to realize the joy of learning something they may have never thought they could do.
If your child has attended another school, how has your experience at MPA been different?
The public school my children attended had a fairly good math and science program but we felt they were not learning to write very well. I guess that shouldn't have been too surprising, because the class sizes were usually around 30 or more, and we can't imagine the time and energy it would take to read that many papers! At MPA, we have been impressed with the level of detail the teachers give in terms of feedback on papers and projects.
What would you tell another family considering MPA?
If you want to get a well-rounded education in a small community that is encouraging and caring, then MPA is for you!
In what ways has MPA prepared your child for life in the 21st century?
MPA has taught our kids to think outside the box, be creative, work together, be kind, and help others. They have taught them to think critically about both sides of any issue.
What do you hope for your child in 20 years?
We hope our children find a passion for whatever career they choose and find meaning in helping the world they live in.
Is there anything else you'd like to share about your MPA experience?
After being at MPA for a year now, we are happy we made the right choice to come here.
Mounds Park Academy, a PreK-12 private school in Saint Paul, is currently accepting inquiries and applications for the 2020-21 school year. For more information about admission and to schedule your tour, visit moundsparkacademy.org/admission. We look forward to getting to know your family!