October 23, 2019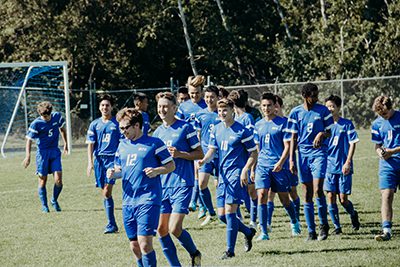 Both the MPA Boys Varsity and Junior Varsity Teams had new coaches this year. Coach Denver Johnson coached Varsity and Coach Phillip Neblich coached JV. Varsity ended their season with six wins and 10 losses, while JV had seven wins and just two losses.
Reflecting on the season, Coach Johnson noted, "We are a young team with talented players, led by captains Luke Zscheile, Nathan Harvanko, and Jerusalem Thao. The season started off rough, with the team playing a couple of top teams in the state. Despite the losses, we maintained a positive mind set and a never quit attitude."
The Varsity team includes Hakan Ucer, Ayoub Mahamoud, Steve Min, Jerusalem Thao, Nathan Harvanko, Sean Davis,, Dhruv Muppidi, Steven Hu, Luke Zscheile, Callum Jones, Shane Fruchterman, Tanner Gasteazoro, Caleb Rhodes, Colin Simonson, Noah Striker, Ryan Ghose, Galen Juliusson, and John Johnson. Luke Zscheile was recognized by the Independent Metro Athletic Conference (IMAC) as an All-Conference player, while Callum Jones, Dhruv Muppidi, and Jerusalem Thao were awarded Conference Honorable Mentions. At the MPA soccer banquet on October 14, Luke Zscheile was named MVP, Callum Jones as MVP Offense, and Nathan Harvanko as MVP Defense. Jerusalem Thao received the Coach's Award, Dhruv Muppidi was named Most Improved Player, and Ryan Ghose received the Panther Award.
The JV team includes Ian Thompson, Seongjin (Harry) Kim, Yuepheng Yang, Skyler Burnett, Manoli Mastrogiorgis, Bruno Grubhofer, Jasper Pope, Thomas Mooney, Anton Gerstner, Andrew Platz, Nicholas Larson, William Tan, Owen Lafferty, Ruihan (Leo) Yu, Noah Lantz, and Jacky Zhou. JV awards included Harry Kim as Most Valuable Player, Jasper Pope as Outstanding Offensive Player, Anton Gerstner as Outstanding Defensive Player, Owen Lafferty as Most Improved, and Ian Thompson as Honorable Mention. The Spirit Award was given to Noah Lantz.
Next year's varsity captains will be Luke Zscheile, Callum Jones, and Dhruv Muppidi. Congratulations on your excellent season, Panthers!