October 24, 2019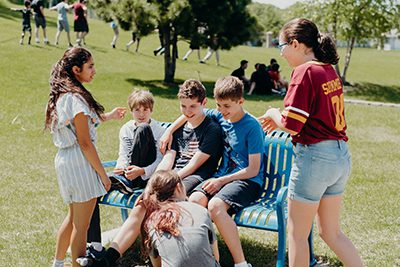 Bring A Friend Day is a fantastic way for those outside our immediate community to experience firsthand who we are and what it is like to be student at Mounds Park Academy! Has a friend or co-worker ever asked, "What is MPA really like?" On Friday, November 15, we are inviting students in grades one through nine to bring a friend to MPA for a special day of learning and fun!
The invited friend should be near the same grade as your child and each child may only bring one friend. Space is very limited by grade level. Please have the family of the visiting friend register online at moundsparkacademy.org/bringafriend by Friday, November 8.
On the day of the visit, if possible, please help the visiting family with transportation to/from school. Visiting students are welcome to ride MPA buses, but not District 622 buses. Bus passes may be obtained from the Office of Admission. Visitors and their hosts should check-in together at the South Entrance at 7:45 AM.
Visitors will follow a typical school schedule, attending all of the regular classes with their friend. Teachers will take the time to introduce visitors in each class and help them feel welcome. Lunch will be provided, or the friend may bring a bag lunch. The day ends at 3 PM in cafeteria and does not include after school care or activities.
If you have any questions, Contact Nate Bander, Admission Outreach Coordinator via email at nbander@moundsparkacademy.org or 651-748-5518. Thank you for sharing your love for MPA with friends! We can't wait to meet them!