October 24, 2019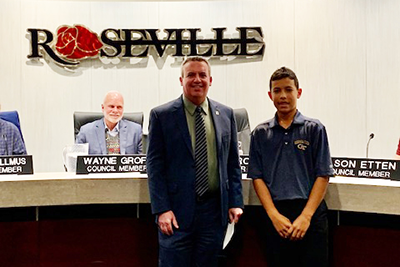 Last year, when he was assigned the seventh grade "Dollar Project," MPA student Jay G. knew where he wanted to take action right away–he already had an idea of how to give back to his community and solve a problem that affected his neighborhood.
"For the past several years, I have noticed that there are lots of kids having to walk through snow to get to school or to their bus stop," he wrote on his GoFundMe page. "So when my teacher gave me a dollar to make an impact in the world, and I thought this was a perfect opportunity."
Jay met with local government staff and discussed Ramsey County's long-term plan to fix and resurface Rice Street in Roseville. His plan included a pathway on the Roseville side of Rice Street.
"All the money raised from this project will go to the City of Roseville towards helping to pave a safe sidewalk on Rice Street," Jay said. "Nobody should ever have to walk through the cold snow to get to a bus stop on one of the busiest streets in Roseville."
This past week, Jay went to the Roseville City Council meeting and presented the money he raised to Mayor Roe, and Jay's dollar project was right at the top of their agenda. The $364 that Jay ended up raising will go toward the future pathway. We are so proud of Jay and his passion to dream big and do right!