October 31, 2019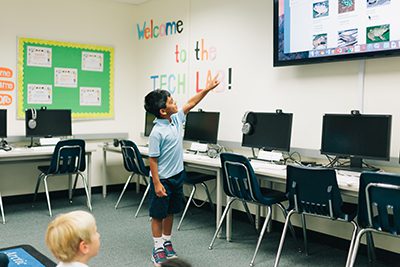 by Neelu Boddipalli, MPA Parent and Trustee
I'm a firm believer that education is the best gift you can give a person–especially a child. Education has played a defining role in my life and I am grateful for the opportunities it has opened for my family. It was education that rewrote my father's destiny from the ancestral life of a rice farmer to that of a prolific and celebrated innovator. It was education that gave a voice to my mother–a high school dropout–who self-taught English, earned a high school diploma and Bachelor's degree to become a successful working mother. I watched how education transformed my extended family–urbanizing and globalizing us and increasing our intellectual capital.
So, when it came to my own children, there was no question in my mind that education would–must–play an important role in their lives. But why a private education? As our boys embarked on their K-12 journey, we leaned toward Mounds Park Academy for one simple reason: the love of learning. MPA invests in exceptional leaders who are committed to nurturing the love of learning in growing minds. MPA also invests in creating an environment–such as the Makerspace and the virtual classroom–that fosters the love of learning. These benefits, which I'm grateful my children get to enjoy, were the result of generosity long before we came to MPA.
It wasn't until I became part of the Board of Trustees that I realized MPA depends on the giving of donors to bridge the gap between revenue generated by tuition and the costs of providing a meaningful educational experience. While it may seem like tuition should cover all expenses, it doesn't. And yes, it is an additional expense, but it's not how much we give, but whether we give. Our school is stronger when we all participate–each as we are able—similar to how 100% of trustees typically give. Each gift is an endorsement for the school's mission and signals to the outside world how much we–parents, faculty, trustees, alumni–value the education at MPA. Each gift has a direct impact on every child and their love of learning–whether it is new library books, classroom technology or athletic equipment. Each gift leaves a legacy and serves as a reminder to future families to continue to pay it forward.
This is the essence of joyful giving. This is why my family gives to MPA.