November 11, 2019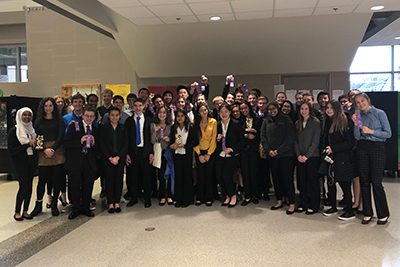 This weekend, MPA sent out the biggest debate team in school history to compete. Fifty-two students competed at the Minneapolis Southwest and Minnehaha Tournaments, and 28 students took home awards!
In the Novice B division, the teams of Amanda Xie and Graham Li, Prescott Hutton and Noah Marnach, and Nathan Harvanko and Tyler Schell received awards with 3-1 records, while Henry Feng and Steve Min placed third and Salma Ali and Lucia Simon were second in the division.
In the Novice A division, the teams of Tanner Gasteazoro and Chloe Appert took home a ribbon for a 3-1 record, and the team of Zaara Nayak and Kensi Binstadt took home the third-place trophy. In Junior Varsity, the teams of Fiona Blank and Anna Gaudio, Luke Zscheile and Josiah Grabanski, and Ruby Schweiger and Charlotte Bergh took home ribbons for 3-1 records. Beldaja Jama and Meera Dear had a perfect 4-0 record at the Minneapolis Southwest Tournament and took the third-place trophy and Rohit Iyer and Peter Manolis took the second-place trophy with 4 wins at the Minnehaha Tournament. In Varsity, Quincy Lewis and Hana Miller won the Minnehaha competition, while Elli Carlson and Ryan Ghose received an award for a winning record at the Minneapolis Southwest Tournament. Congratulations to the entire team for a great weekend!