November 11, 2019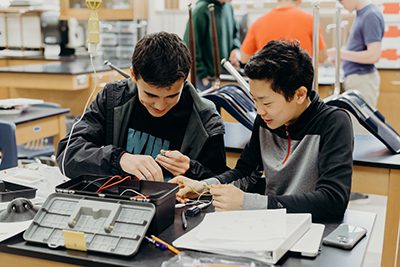 How we work, and learn to work, is changing for real and in real time. The technology, pace, and business models that define our local and national economies are shifting almost by the day, with old structures retiring and new approaches taking center stage. This fundamental change in career paths and professional expectations is shaping how progressive schools view the skills they teach students, and how they create opportunities for students to grow and prepare in and beyond the classroom.
Alison Kay, EY Global Accounts Committee Chair, writes that "we can help the next generation, who have not yet entered the workplace, by being alert to the scale of change taking place." She emphasizes that "I think the best we can do as parents, mentors, and business leaders is to support qualities that will help them to deal with and work through uncertainty." In her article, Kay outlines the key skills that will help students prepare for jobs that don't yet exist, or that are evolving rapidly:
Embracing risk. Kay encourages parents to "fight against (children's) fear of failure and embarrassment—and stop ourselves from overprotecting them. It's important for them to ask, 'What's the worst that could happen?', because that process of identifying risks and thinking through consequences will be useful throughout their lives and careers."
The importance of resilience. "We all make mistakes," says Kay. "We all make bad decisions. But if you have resilience, you don't give up. You learn from your mistakes. And you do it better the next time. Those are the kinds of people that we need in an age of disruption, where established rules are overturned. We need creative thinkers who know how to dig deep and keep trying."
Instilling self-belief. Explains Kay, "Possibly the most fundamental of all is self-belief. I really believe self-belief is one of the most important qualities we need to foster in the next generation. There's something incredibly powerful that happens when the people who you look up to tell you, 'Of course you can do it.'"
A recent McKinsey Global Institute report also affirms that social and emotional skills are gaining recognition and value. The authors write, "Accompanying the adoption of advanced technologies into the workplace will be an increase in the need for workers with finely tuned social and emotional skills—skills that machines are a long way from mastering. While some of these skills, such as empathy, are innate, others, such as advanced communication, can be honed and taught." The study also notes that "Demand for higher cognitive skills, such as creativity, critical thinking, decision making, and complex information processing, will grow through 2030."
Curious, Connected, Caring: Preparing Students for Work and Life
Mounds Park Academy is setting the foundation for 21st century work by engaging students in a rigorous college-preparatory experience that cultivates dreamers and doers. Through an academic program that is infused with intention and purpose, and wrapped in the support of a caring community, MPA fosters a spirit of innovation that fuels creative thinking and allows students to experience the joy of learning, emphasizing collaboration, problem solving, and an interdisciplinary understanding that has real-world applications. For example, children as young as PreK gather in the Makerspace to participate in practical, multi-faceted design thinking projects; Middle School students are encouraged to innovate and stretch in new ways through interdisciplinary i-Term weeks; and Upper School students build on MPA's curriculum with customized, capstone Certificate of Distinction projects in focused subject areas.
School-wide character development is woven into the MPA experience, and modeled, at all grade levels. By challenging students to take risks and push themselves in a safe environment, students build a lifelong habit of ethical, active citizenship, as well the confidence to navigate unknown opportunities and challenges. Curiosity also plays an essential role at MPA, with students learning to ask the big questions that inspire big dreams. They develop the confidence to tackle problems in the face of uncertainty, drive innovation, and to do right at a time when it is needed most.
"The importance of social-emotional skills, practicing empathy, becoming inclusive, and forming collaborative work environments cannot be understated," says Dr. Bill Hudson, head of school. "At MPA, we create classrooms that encourage students to be architects of their own learning, where they take risks, view the world through multiple lenses, and utilize innovative tools in both expected and unexpected ways."
Learn More about It: The New Work Environment
See how freelancing is changing work styles for nearly 57 million Americans.
Find out how the search for truth defines Gen Z and their behaviors.
Get caught up on the gig economy, and what it means for traditional and new career paths.
Mounds Park Academy, a PreK-12 private school in Saint Paul, is currently accepting inquiries and applications for the 2020-21 school year. For more information visit moundsparkacademy.org/admission or inquire at the link above. We look forward to getting to know your family!