November 14, 2019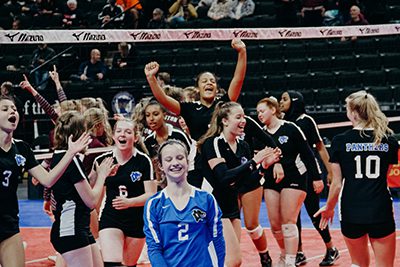 by Jeff Kunze-Hoeg, MPA Varsity Volleyball Coach
I want to thank the entire MPA family for your overwhelming support of the MPA volleyball program this season–especially at the 4A Section Final where we beat New Life Academy to advance to the State Tournament for the first time in school history. The cheering was electric and there is no doubt that it helped push our team to victory. Winning that match will be a long-time memory for us. I was blown away, not only by the number of students in the stands, but the number of MPA faculty and families who took time out of their weekend to show their Panther Pride at Kennedy High School.
I would also like to thank the Administrative Team, especially Athletic Director Dan Haase, for the extra work they did in organizing the FIVE student buses for the State Tournament. I heard that at least 240 students came to the Xcel Center to scream and cheer for the volleyball team. Thank you for allowing your students and children to attend. I also understand that most of the school, who did not go to the Xcel, was cheering at the livestream in the cafeteria.
Thank you again for sharing the excitement of the post-season with us this year! We couldn't have done it without you.