November 21, 2019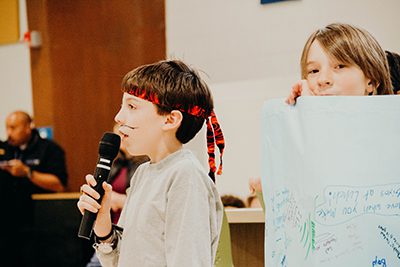 by Dr. Bill Hudson, Head of School
I read recently that the Ritz-Carlton trains its staff to follow the "10/5" rule. That is, when employees walk within ten feet of someone they should make eye contact and smile. If they walk within five feet, they say hello. While not a rule, I would suggest it is an MPA practice. Personally, I try to also use a person's name when I great them. The response, even from someone who appears to be grumpy, is often a smile.
You may have noticed a recent post on Facebook regarding new sixth grade student Zaq who organized his Middle School classmates to thank and celebrate our awesome kitchen staff. Students took the time to write notes and a large banner with their signatures was presented to the staff at lunch. In fact, throughout the last several weeks, the microphone at lunch has been passed around as students have share what they are grateful for with one another. Regardless of what they may say at home or how they may talk to you, most students voice words of gratitude about their parents.
Research about the workplace indicates that when we feel supported and motivated by our colleagues, we are happier, more productive, and stick around longer. We are also healthier and better able to cope with job stress. I believe that is also true in schools. Students are more successful, are willing to work harder or wrestle longer with a problem when they feel the teacher supports and believes in them. Being a young person these days is tougher than ever, but having a kind and caring community helps them navigate the rough waters of adolescence.
Author Leo Tolstoy wrote that the kinder and more thoughtful a person is, the more kindness he (sic) can find in other people. Kindness enriches our life; with kindness, mysterious things become easy and dull things become cheerful. Nothing can make our life, or the lives of others, more beautiful than perpetual kindness. Research about gratitude has found that it leads to happiness and physical well-being. Gratitude is both a state of mind and a trait. It can also evolve into a life trait, a propensity to look at life in a particular way, and an awareness of the positive things in life.
I'd like to take a moment to share my gratitude. I know I am incredibly fortunate to have a job that brings great joy and satisfaction. Each day, I have the privilege to witness the growth and accomplishments of our students and benefit from the joyfulness that radiates from them. I have the honor of working with kind, caring people who are also exceptional teachers and staff members. Thank you for considering and choosing MPA. I appreciate our partnership and your support as we together build a better future. I have hope in our collective future because I confidence in the students I encounter every day at MPA. Thank you!