November 27, 2019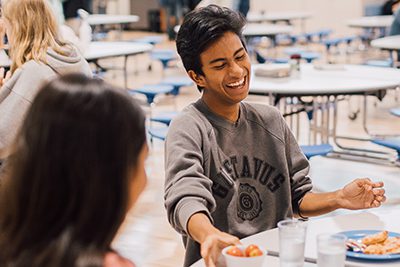 School lunch has often been considered separate from the educational experience—a quick stop between class and recess, with functional, limited menus short on nutritional value and culinary inspiration. Leading schools have been reversing this long-standing trend, knowing that good food served well is a powerful way to fuel learning.
Nutrition and Academic Performance
The Centers for Disease Control and Prevention (CDC) underscore this theme, emphasizing that "schools are in a unique position to provide students with opportunities to learn about and practice healthy eating behaviors." The CDC finds that most children do not meet fruit and vegetable recommendations, and that added sugars and solid fats contribute to 40 percent of daily calories for those age two to 18 years old, affecting the overall quality of their diets.
Additional studies show that school lunches cab affect student achievement as measured by test scores. As quoted in The Atlantic, Sean Patrick Corcoran, of New York University's Steinhardt School of Culture, Education, and Human Development, reinforced the positive impact of schools serving high-value meals. "I've seen a number of other rigorous studies that also find a connection between healthy eating and academic performance," he says. "Students who eat regular, healthy meals are less likely to be tired, are more attentive in class, and retain more information."
Making Lunch Healthful, Social, Sustainable
Set against the backdrop of brand-new facilities that include a state-of-the-art kitchen, dining area, welcoming community commons, and teaching kitchen, the Mounds Park Academy cafeteria is a hub of best practices in school nutrition. In partnership with SAGE Dining Services, MPA offers scratch-made lunches that nourish minds and bodies while emphasizing healthy variety and sustainability. Custom-designed seasonal menus reflect student preferences and incorporate fresh products throughout the year. Registered dietitians review and approve each menu, ensuring a wide variety of nutritious choices.
MPA also participates in the SAGE Spotlight Program, which guides students in choosing items that are both delicious and nutritious. There are no "good" foods or "bad" foods, with all foods having a role when practicing variety, balance, and moderation as part of an informed approach to eating. Menu items are each spotlighted with a color:
Green represents foods higher in nutrient density.
Yellow represents foods with moderate nutrient density, proving balance and adding a variety of nutrients and flavors.
Red represents foods lower in nutrient density, enjoyed in moderation.
Nutrient density is defined using recommendations from the USDA Dietary Guidelines, helping students navigate the proportion of nutrients people tend to overconsume (saturated fat, added sugar, sodium) in relation to the ones often under-consumed (calcium, potassium, dietary fiber, vitamin D, iron).
In addition to cooking from scratch to reduce the use of processed foods, MPA's chefs serve house-made dressings, house-roast deli meats, and use antibiotic- and hormone-free milk and cage-free, Certified Humane® shell eggs. Many ingredients are locally sourced or campus-grown, and menus include vegetarian and vegan options.
Lunch is also a time to build relationships. In Lower School, students sit with their teachers during lunch, ensuring that each student is supported throughout the meal while spending time with their peers. In Middle and Upper School, students sit in mixed age groups of their choice, offering an expanded social network. MPA also endorses the importance of recess for all ages. Lower School students enjoy 55 minutes for lunch and recess, and Middle and Upper Schoolers have 50 minutes for lunch and recess or community time—which is vital to social, emotional, and academic development.
Understanding Allergies
Especially for children who live with food allergies, teaching and fostering self-management for this chronic health condition is crucial to optimizing health and social normalcy. MPA has a series of school-wide guidelines and protocols in place to support students with food allergies. The overarching principle of that framework is to minimize as many risks as possible. MPA follows the lead of both independent and public schools in the development of the guidelines, as well as federal agencies and national advocacy organizations.
MPA works with SAGE to provide students with reliable information about lunch and facilitates an open line of communication with their parents. As a Food Allergy Aware School, MPA prohibits foods with peanut and tree nuts (walnuts, almonds, hazelnuts, pecans, cashews, pistachios, Brazil nuts, pine nuts, and macadamias) listed as ingredients throughout the school and at all school events.
"We are a school that places a high value on mutual respect, character, and the building of community," says Dr. Bill Hudson, head of school. "Our whole-child for whole-life approach to education demands we are attentive to all aspects of a students' growth and development, inclusive of their academic, physical, social, emotional, and mental health and wellbeing."
Learn more about it: School Lunch and Student Nutrition
Visit Choose My Plate for advice on food choices from the USDA Center for Nutrition Policy & Promotion.
Read more about the Dietary Guidelines for Americans, which provides food-based recommendations to promote health, help prevent diet-related chronic diseases, and meet nutrient needs.
Curious about what's for lunch today at MPA? Check our daily menu.