December 5, 2019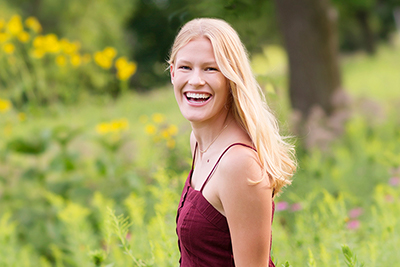 The following essay is adapted from MPA Class of 2020 member Catherine Moore's Senior Speech.
I have been at MPA since kindergarten and during my time here, I have done and been many different things. In the early years, my aspirations ranged from being a veterinarian—a job that many regular people would think is a good life goal—to astronaut—again, a good job, though harder to get there, but still fairly normal … to finally … a mermaid. Clearly, my interests would wander, changing with whatever creative thought passed through my head. Luckily, MPA gave me a place to explore my less realistic, yet aspirational side. I don't know about doing right, but I definitely dreamed big.
My afterschool interests varied, too. I tried soccer and swimming, joined basketball and played volleyball. I loved everything about sports … especially the competitiveness. I enjoyed being physical and loved my will to win. I engaged in as many sports as possible. Eventually, however, it was volleyball that caught my attention and gave me an anchor and a steady focus. In many ways, some of the most important lessons I have learned have come from being on a volleyball team, whether that was here at MPA or on a club team.
The most important life skill I have learned from volleyball is confidence. Before starting volleyball, I had never been able to play a sport without constantly comparing myself and my skills to others. Once I decided to really dedicate myself to volleyball in ninth grade, I improved rapidly. I was able to finally see my own merit as a player and stopped constantly comparing myself to others. I knew that I had some skills that were good on their own and were not relative to those around me, and that felt affirming.
At some point, I realized that I could hit the ball pretty hard. That made me feel powerful and strong, which then translated into off-the-court activities as well. I became more confident in the classroom, engaging in conversation, asking questions, and being proud of the work I turned in. All of that started with how I felt on the volleyball court.
Over the years, I have realized my appreciation for volleyball is not just about the sport, it is about the leadership and teamwork. Volleyball is far more than a game or a competition or a practice; it is something into which I can unleash my frustrations and enthusiasm, my joys and sadness. Believe me, nothing feels better than spiking a volleyball.
Of course, none of that would happen without the girls around me. Volleyball is a team sport and without my teammates, I would not be able to play this sport that I love. In many sports, you can have just one or two good players and still win. In volleyball, everyone must be engaged, bringing their own skills to each play. I couldn't hit if somebody didn't pass. That kind of interdependence brings a closeness on the court between teammates. Because of this, I have learned to trust other people, to work as a team, and to deal with the 'human' aspect of the people around me. This is a skill that will serve me well both in college and beyond.
Even though volleyball is the sport that I love, it also is where I fail the most. Failure is part of the game. The failure is what pushes me to be the best player that I can possibly be. Volleyball is a game of errors. I have learned that making a mistake is not the end of the world and that my teammates will support me no matter what. Making faults is what makes up the game of volleyball, and once I realized that, I began to succeed in the sport.
Rebounding after a mistake is the most challenging part of volleyball. It drives me to be the best player I can be and to shake off past errors. It is difficult, but I know that in life, errors are going to be made, and how I react to them is what counts. Having supportive people in my life, just like on the volleyball court will help me recover from my failures. Through volleyball, I have learned many effective techniques to deal with frustrating mistakes that I know will help me succeed in the future.
As a senior, I now clearly see that there are many different kinds of teams: my friends, my classmates, my family, the yearbook crew, and of course, my volleyball, basketball, and track teams. You are the people who have supported me and made me better. I would like thank everybody who was a part of my team. I have met many people through my years at MPA that have helped shape who I am. I want to thank the Class of 2020 for the support that each one of you have given me. Whether I have known you since kindergarten or more recently. Every one of you have helped me become a better person.