December 5, 2019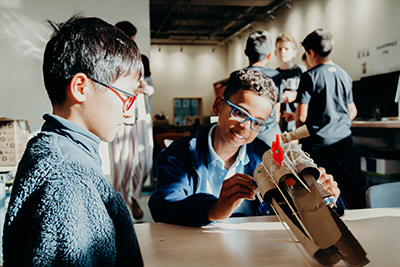 by Mark Segal, Upper School director
Editor's Note: On the first Thursday of each month, you will find a guest Head's Message here from one of MPA's division directors. We hope you enjoy reading their thoughts and reflections about life at MPA.
November 8, 2019 was a big day for the MPA community. Many of you remember the community energy and excitement as we celebrated the Volleyball Team as they competed in their first State Volleyball Tournament. This, however, was not the only thing we celebrated that day. November 8 was also the day that Mounds Park Academy was named one of the top 500 STEM high schools in the United States by Newsweek. Given there are more than 37,000 high schools, this is a very significant honor. Many of our fellow awardees are STEM schools or have STEM programs, while MPA believes that integrating science, technology, engineering, art, and math into all aspects of an MPA education aligns best with our whole-child approach. Here, we add an "A" intentionally, referring to the disciplines together as STEAM.
According to the US Bureau of Labor Statistics, in 2016 there were nearly nine million STEM/STEAM jobs representing 6.5% of the US workforce. Looking ahead, those numbers are expected to grow 70 percent faster than other occupations and many educators are encouraging students to take an interest in the subjects and courses that will provide a solid foundation in these areas. This is fabulous advice and fits well with MPA's educational approach that allows PreK through 12th grade students to explore topics and ideas through multiple disciplines, examining problems and situations with insight from science, math, art, and humanities.
In 2015, MGA Entertainment, the world's largest private toy manufacturer, established November 8 as National STEM Day. This "holiday" aims to encourage kids to explore and pursue their interests in science, technology, engineering, art, and math skills in fun and engaging ways. Conversely, Mounds Park Academy has been incorporating STEAM activities in our daily program since its inception in 1982. We have always found that when students engage in activities that combine different elements of STEAM, they experience guided inquiry during which they must ask thoughtful questions, discover answers, apply what they learn, and problem-solve creatively.
MPA math teacher Wendy Sullivan shares that STEAM education allows students to use a different part of their brain than they would in other classes, which provides an opportunity for students to operate in a more technological world. She sees a clear correlation between what she teaches in her ninth grade geometry class. Students use proofs to understand how to have a well-designed argument and information that is not just used in math and learn that each statement needs to be based on facts that have been established.
Upper School physics teacher and Robotics team coach Marc Shapiro explained that STEAM education provides a broader understanding of the world. He shares that, "every discipline teaches ways to critically think in different forms and STEAM courses allow this thinking to be taken far beyond the classroom." This has proven to be a key foundational piece for MPA graduates as many of them seek careers in STEAM fields.
Sixth grade students recently used STEAM skills in their science class as they designed a simple mechanical machine. They learned about inclined planes, levers, and wedges and then designed their own simple machine to assist with an everyday task. It was wonderful to see my sixth grade son mentally walk through his daily routine to determine an applicable need. He then drafted a design and wrote up an explanation of his idea. He was able to think about the meaning behind his artistic creation, and experience the creative process, going from a design on paper to a tangible, functional object. I don't think his idea, however, of how to open his bedroom window blinds will go into mass production anytime soon, yet I was thoroughly impressed with his thought process as he worked through this assignment.
Many STEAM projects at MPA involve teamwork, collaboration, and thoughtful dialogue in which students exchange ideas and discuss ways to problem-solve. Through these activities, students learn how to divide up responsibilities, compromise, listen to, and encourage each other as they work through an assigned problem or task. One example of this occurs in fourth grade when students apply the basics of a base ten counting system. Students spend time with their teachers learning about place value. Faculty member DeeDee Stacy shares that, "students gain a deeper understanding of what base ten means and realize that this concept is also applicable to other base counting systems." Students take this classroom learning into the Makerspace where they build a counting machine using a different base counting system. The culmination of the project happens when the fourth-grade students present and explain how their counting machine works and how to convert numbers to Middle School students and faculty. This is applying the theory that cross-curricular projects engage different parts of students' brains so that they are seeing the project through different lenses, focusing on details while also learning to step back and look at the bigger picture.
The National Science Foundation finds that, "in the 21st century, scientific and technological innovations have become increasingly important as we face the benefits and challenges of both globalization and a knowledge-based economy. To succeed in this new information-based and highly technological society, students need to develop their capabilities in STEM/STEAM to levels much beyond what was considered acceptable in the past." The US Labor Department predicts that of the 10 fastest growing occupations, nearly all of them are STEM/STEAM careers; therefore, an interest in STEM/STEAM early in an academic career can lead to success later on in life. Mounds Park Academy understands this and for 38 years has held firm to a holistic approach to teaching and learning that allows students to develop necessary skills that will serve them well in the future.