December 12, 2019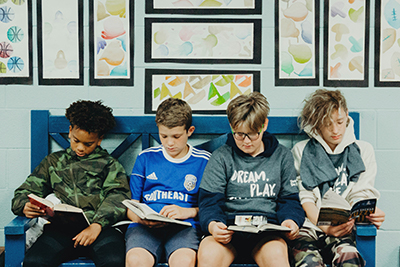 by Dr. Bill Hudson, Head of School
"Mr. Brown Can Moo! Can You?" Who doesn't love a good Dr. Seuss book? Last week I read to both the PreK and kindergarten classes, choosing from among my childhood favorites. The PreK class loved Mr. Brown as much as I loved sharing it with them like I did with my own children. There is something about coming together and forging a relationship by sharing a good book.
Excitement is building as our new library inches towards opening. Nearly 30,000 books will find a new home. For this to happen, we've needed to temporarily close the library in order to make the move. In the meantime, Lower School library time is being filled by administrators reading to our students. In addition to reading to the PreK students, I also read another of my favorite books, "Mike Mulligan and His Steam Shovel," to the kindergartners.
In my estimation, there remains a strong affinity for "old fashioned books" over eBooks in our digital age. More than nostalgia, I think physical books can empower readers, be a form of self-expression, and foster a sense of ownership over more than just the book itself. Reading proficiency is a precursor to academic achievement and is foundational to a student's ability to master the complex subject matter required in higher grades. Some of the 21st century skills such as critical thinking, collaboration, creativity, communication, and cultural competencies all hinge on reading proficiency. Research confirms the importance of reading not just in English class, but across the curriculum.
At MPA, reading proficiency and joyful reading are prioritized in the curriculum and in the time dedicated to it. For instance, students in PreK-4 have 35 minutes of library time each week. In addition, most classrooms have at least 15 minutes a day of independent reading. In total, Lower School students have about 75 minutes per week to read during school. Additionally, it is a standard practice in Lower School for teachers to connect reading and the curriculum and forge meaningful relationships by reading aloud to their students. MPA also encourages families to commit to dedicating 10-20 minutes four or five nights a week.
Our Middle School has made a conscious choice to provide students with more choice in their reading rather than dictating books to be read. While some classics remain embedded in the curriculum, giving students more choice and agency not only encourages reading but also fosters the joy of reading, an important lifelong skill. As Middle School teacher Patti Meras explains, "Students meet and interact with diverse fiction and non-fiction characters and cultures through literary analysis, close reading of non-fiction, and building written and oral communication competency. The Reading Workshop serves as the foundation for not only developing these skills, but also instilling a lifelong love of reading through the power of choice. Students are encouraged to share and discuss the books they read with each other thereby broadening their range of genres and deepening their understanding of self and others."
Our small classes at MPA provide the opportunity for teachers to really know our students and connect them with books that match their interests. Teachers are also able to make recommendations of books that fit with their students reading level so they feel successful and positive about reading. In the words of Middle School teacher Anne Atchinson, "there is so much more to who we are as readers (and people) when we look and read into the windows and mirrors we see in the real and imaginative stories of others, the stories that let us wonder how we can choose to live our own lives."
Though "Mike Mulligan and His Steam Shovel" may seem old school, my conversation with our kindergartners was anything but that. We talked about the importance of finding our purpose in life, about our human desire to be useful, how we approach problem solving with a growth mindset, and the power of young people in wrestling with solutions to complex problems we currently face as a society. As a school committed to a whole-child for whole-life education, reading not only leads to academic success but also contributes to the social and emotional growth of a person and their overall quality of life.