December 17, 2019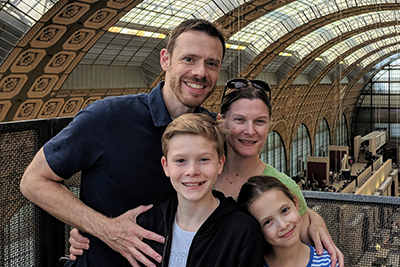 What do you love about MPA?
The teachers and staff. Everyone has been warm and friendly since we arrived in 2018 and thanks to the small classroom sizes, our children receive the attention they need to learn in the best way suited for them.
How is your child encouraged to dream big and do right at MPA?
Our children are pushed lovingly but firmly to bring their best to every class, whether it's drama or algebra. This shows them they are capable of achieving more than they might have otherwise thought possible. The teachers set standards appropriate to each child and support each child to be their best self, academically, and emotionally. MPA also shows that school is more than just math, science, or reading; it helps each student build those soft skills, such as oral communication and presentation, that will ultimately serve our children very well in their future, even if they don't necessarily always love being out of their comfort zone.
If your child has attended another school, how has your experience at MPA been different?
Our children have attended to other schools—in France and the Pacific Northwest—and MPA offers much smaller class sizes, more caring and attentive teachers, and a student cohort that permits each child to be themselves. This permits our children to feel safe bringing to the MPA community the best of themselves knowing that they will be supported.
What would you tell another family considering MPA?
We looked at MPA while we were in France and the lengths that the admission team went to to permit us to get to know the school and faculty were nothing but extraordinary. We knew then that this school was different. So, what I would say to you if you are not sure whether to consider MPA or not, is just stop by. I know that the admission team, the faculty, and the families of MPA would welcome showing you around and sharing with your child what a typical day looks like. I am sure you will be pleasantly surprised by how quickly you will be genuinely and warmly welcomed.
In what ways has MPA prepared your child for life in the 21st century?
MPA, like many schools, is mindful of the role technology is playing and will play in the future of our society. However, MPA works very hard to try to balance it against those skills that we find many children lack these days, such as written and oral communication skills. You won't find students roaming the halls staring at their cellphones at MPA, but you will find students coding, building, designing, and presenting using their school-issued laptops. You'll also find that the school is mindful of the changes in our natural environment and how our children will need to become good stewards and inventors of solutions to deal with and reverse climate change.
What do you hope for your child in 20 years?
What's important for our family is that our children learn to live in balance with themselves and the rest of their community, whatever that may ultimately be. That means giving themselves the permission to follow their passions, whatever they may be, while being mindful of what they have to offer to help others. We tell our children daily how lucky they are to be part of a school community that creates a safe environment to experiment, explore, and fail so that they may find and follow those things that truly excite them.
Mounds Park Academy, a PreK-12 private school in Saint Paul, is currently accepting inquiries for the 2020-21 school year. For more information about admission and to schedule your tour, visit moundsparkacademy.org/admission. We look forward to getting to know your family!