December 19, 2019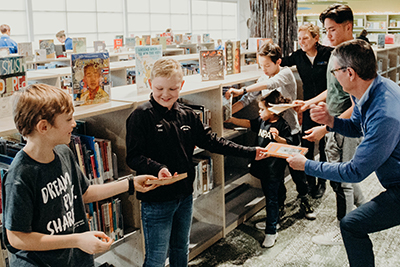 by Dr. Bill Hudson, Head of School
Saturday marks the official beginning of winter and is also the shortest day of the year. It marks an important moment in the cycle of life, the end of darkness and the re-emergence of light. Throughout human history, in many cultures and religious traditions, light holds significant meaning, often symbolizing the goodness in each one of us. For many, it represents the warmth of home and family.
These last few weeks before winter break at MPA have been filled with celebrations of light, warmth, and family:
The Founders' Breakfast is a wonderful tradition and it was such a joy last week to see so many students and families celebrating the history and values that bring us together.
Maybe it's the lack of sleep or the holiday spirit, but I had tears in my eyes during the Middle School Band, Orchestra, and Vocal Concert last week. The students did a magnificent job, creating such beauty and joy through their music. As I scanned the faces of our students, I reflected on how much they have grown and come into their own, regardless of whether they were new this year or returning.
As I entered school on Tuesday, I was greeted by the comforting smell of waffles and syrup marking the annual Upper School tradition of our Peer Leaders serving homemade waffles to students.
This afternoon, we celebrated the completion of our new library, with all students, teachers, and staff passing the final 100 books, one by one, along line bridging the distance between the old and the new.
MPA is a multicultural and diverse community where many cultures and faith traditions come together around shared values. Noted psychiatrist Carl Jung said, "As far as we can discover, the sole purpose of human existence is to kindle a light in the darkness of mere being." As we depart for winter break, I invite you to join with me in gratitude for all we enjoy as an MPA community and in solidarity with others as we celebrate the triumph of the human spirit, of light over darkness, knowledge over ignorance, good over evil, and hope over despair.