December 31, 2019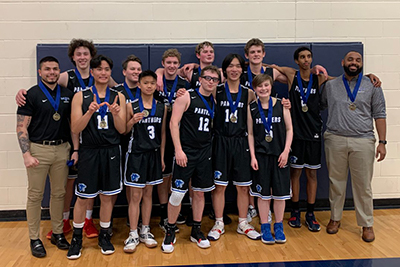 Several MPA athletic teams competed and had outstanding performances over winter break. Go Panthers!
MPA fourth and fifth grade soccer players teamed up and competed in the NSC Holiday Classic 5v5 Soccer Tournament, finishing 2-1 overall in the tournament! The team was coached by Mr. Scinto and Mr. Sheehan.
Congratulations to MPA junior Colin Simonson, sophomore Cullen Moore, and the entire Gentry Academy Stars Hockey Team! The Stars won the Herb Brooks Holiday Classic Silver Bracket Champions title when they defeated SPA 4-3 in the championship game at the Tria Center.
The MPA Boys Basketball Team also took a championship title. Congratulations to our 2019 Kreischer Holiday Tournament Champions!
The team had several other exciting games over the break, with highlights including Senior Austin Lee's crucial 3-pointer for an overtime win against Kaleidoscope Charter, making a nine-point comeback in the same game, and JD Ogden's career high 37 point game.
In MPA girls basketball, the Panthers had a memorable win behind 25 points from sophomore Kaija Kunze-Hoeg and 13 from senior Catherine Moore. The whole team put in great effort for a solid finish in the annual Kreischer Tournament.