December 8, 2019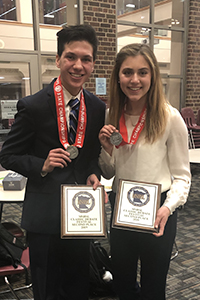 MPA Debate had a very successful weekend at the State Tournament. Forty three students represented the school, and Mounds Park Academy received the second place team sweepstakes award. That's an award based on the top two performances across each of the three divisions of competition—novice, junior varsity, and varsity. That's MPA's highest team finish in the 20 years of the tournament.
The tournament is called the Classic Debate Championships in novice and junior varsity. Three MPA teams advanced to the quarterfinals (top eight) among the 47 teams in the junior varsity division. Meera Dear and Beldaja Jama advanced to the quarterfinal round, as did the team of Charlotte Bergh and Ruby Schweiger. Emma Cohen and Salmah Elmasry won the junior varsity division with a perfect 8-0 record, defeating a team from Eastview in the final round.
The varsity division is called the Minnesota State High School League Classic Debate State Festival, as the MSHSL sponsors the awards for this event. Charlie Galicich and Garrett Hollihan advanced to the semifinals, and Charlie received all-state honors for his outstanding performance over the course of the season. Ryan Ghose and Elli Carlson reached the finals of the tournament, where they were defeated by the state champions from Mankato.
A special thank you to all the alumni who helped the team. Meg Wilkening '18 is a brilliant coach, and numerous alumni judged for the team over the course of the season.
Go Panthers!